Alice's food A to Z by Alice Zaslavsky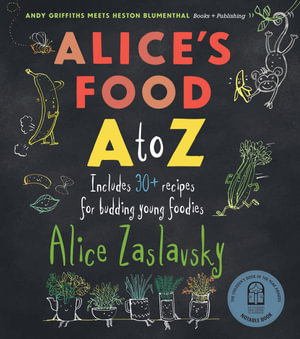 Alice's Food A to Z was first published in 2015. This latest glossy edition published in 2021, is full of humour and fascinating facts as well as 30 recipes for budding cooks. Author, Alice Zaslavsky, introduces herself in a warm and heartfelt letter giving early background information and a brief glimpse into her food journey. The Contents pages have alphabetically ordered food and are appealing with both drawings and photographs. With foods presented beginning with the apple to dukkah to Jerusalem artichoke and zucchini as the final offering, readers of all ages are in for an enjoyable culinary treat. The letter 'U' stands for utensils and showcases the author's 'Nifty Nine' that she uses daily. Each food discussed is beautifully photographed with one or more pages of segmented information including, 'What to look for', 'Fun Facts', 'What's to Love', 'This goes with that', as well as recipes incorporated throughout the book. Nut free, gluten free, expert mode and snack attack are highlighted in coloured bubbles. At end of the book is a recipe index, a word wizards list in place of a glossary and a note for grownups.
This excellent foodie book would make a wonderful birthday or Christmas gift for children (and adults) of all ages.
Themes: Food Facts, Recipes.
Kathryn Beilby