Alice-Miranda in Egypt by Jacqueline Harvey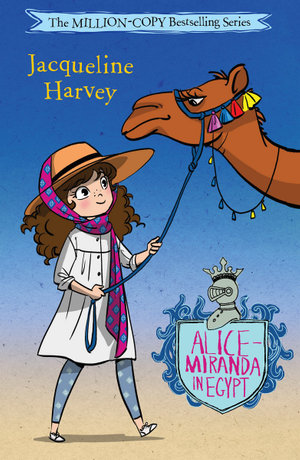 Alice-Miranda is on the way to Egypt with the Queen's Colours Leadership program. This will be incredibly exciting as they explore Egyptology and archaeology, and display leadership qualities. However, before they leave London, they discover that the school they attend could potentially close down and their teachers may be involved in a scheme that could have dreadful ramifications for the school community. While in Egypt they also discover another Egypt-based scam that could have serious consequences for their local guide's family. Alice-Miranda and her friends cannot let any of this proceed quietly without solving the problems that are raised. The young leaders from a variety of schools are also just working out how to best get along, and some of the boys are starting to show an interest in the pre-teen, but wise-beyond-her-years, Alice Miranda.
This is book 20 in Alice-Miranda's story, and so many readers will have followed her friendships and problem-solving detective skills over the years. Jacqueline Harvey continues to give Alice-Miranda a wise exploration of life and in this book a wonderful setting for her understanding of the world. She does always seem to be older than her years, a wonderful friend and relates to adults almost as a peer. With some interesting discussion of Egyptology, this may intrigue young readers. This is a book for those who love the series, aged 9-14.
Themes: Friendship, Egypt, Egyptology, Ponzi schemes, Scams.
Carolyn Hull