A universe of wishes: An anthology by Dhonielle Clayton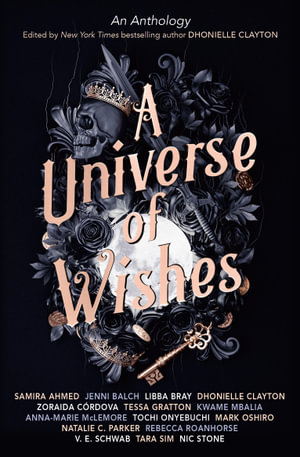 With fifteen short stories in this anthology, A Universe of Wishes contains just so many stories - something for everyone: from harvesting magic from the dead, prisoners in foreign countries communicating through letters in their cells, a daughter fighting for the right for her mothers to be together, a colony ship transporting a young crew and their valuable, natural cargo, even a reimagining of Rapunzel, to a genie in a lamp story. As a few of the authors included in this book have written popular YA series (Shades of Magic by V.E. Schwab; Gemma Doyle by Libba Bray), the inclusion of stories that are pre-series or side stories will be a delight to those who have read the main series.
As these stories are diverse in terms of content, genre and authors, there are a variety of writing styles. Each story has a different pacing, though the majority are fast paced due to the length of the story. There are some stories written from the protagonist's point of view, while others move between characters. Some stories leave you wanting more, while others are the perfect length and conclusion. Authors include V.E. Schwab, Libba Bray, Samira Ahmed and Nic Stone. While the authors are diverse in their talents, they have all created worlds that they have then described in such detail that readers will be quickly absorbed into these new worlds.
Themes: Fantasy, Science Fiction, LGBTQIA+, Diversity, Magic, Own Voices.
Melanie Phillips