Princesses are not just pretty by Kate Lum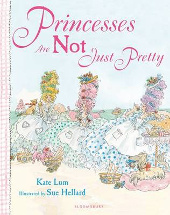 Ill. by Sue Hellard. Bloomsbury, 2014. ISBN 9781408824252
(Ages 3-5) Recommended. Princess Allie, Princess Mellie and Princess Libby love dressing in beautiful gowns, having their hair done in lavish styles, and being generally very pretty. The trouble is, each thinks they are the prettiest, so it is decided they must have a beauty contest to find out who really is the prettiest princess. Luckily at this point the book takes a change in direction, as none of the characters seemed very likeable. Suddenly, though, each princess is faced with a problem which involves them putting another person's needs before their own, and each steps up valiantly.
This book would provide a great starting point for many discussions about stereotypes, selflessness and appearances. The illustrations are colourful and comical, making it an enjoyable book for reading aloud to young children. There are two other titles in the Princesses series.
Donella Reed.