Wither by Lauren DeStefano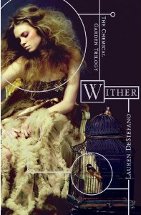 HarperVoyager, 2011. ISBN 978-0-00-738698-7.
(Age 14+) Dystopia. Science fiction. In a world where genetic engineering has gone astray, 16 year old Rhine Ellery and her twin brother desperately keep themselves alive. A virus that kills off their young people has defeated scientists, who had attempted to create perfect babies and longer life. In a society that has gone haywire, all girls die when they are 20 and young men when they reach 25. When Rhine is kidnapped by a rich man and chosen to be one of three sister brides for his son Linden, she knows that this is not a life that she can tolerate and together with Gabriel, a servant in the household, she plots an escape.
DeStefano has created a very frightening, claustrophobic world where the three sister brides live in a comfortable prison with a library and beautiful gardens, but they have no freedom or control over what they do.& With Rhine are Jenna, a 19 year old young woman who has given up all hope, and Cecily, an orphan, who has never know anything better and longs to be Linden's favourite. Rose, Linden's first wife and love of his life, is dying, and the three girls are faced with what it is like to die at the age of 20. The servants in the household are very young and educated only for the duties that they must perform: hair, make-up, dressmaking and serving. Ruling with a fist of iron is Linden's cruel father, who experiments on bodies, trying to find a way to overcome the virus.
The premise of the book reminded me of The handmaid's tale by Margaret Atwood, which would be a good choice to send more able readers to if they like the ideas behind this story. It is of course, written for adolescents and is an easier read. The beautiful girl on the front cover and the fairly low key love interest will attract teenage girls.
The themes of genetic engineering gone awry, the callousness of a rich society toward poor children and the belief that women have little value other than to produce babies or entertain men, will all raise issues that teen readers can explore with relish. The book is quite dark and is not an escapist read. People who like dystopian themes will be able to continue with the next two books that are planned for this series.
Pat Pledger (SA)
Editor's note: This review was first published in Fiction Focus.