Review Blog
Nov 20 2018
Stories for kids who dare to be different by Ben Brooks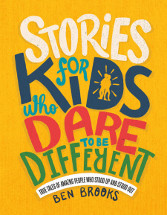 Ill. by Quinton Wintor. Quercus, 2018. ISBN 9781787476523
(Age: 9 - Adult) Highly recommended. Biographies. Ben Brooks continues his inspirational series with
Stories for kids who dare to be different
. His biographies show the power of positivity, the importance of inclusivity and how one person can rise above their circumstances and make a difference. These are important for today's children and teenagers as they show role models from different ethnicities, social backgrounds, with many different professions and beliefs. It has important messages of staying true to yourself, believing in your own capabilities and being caring and compassionate with both people and the environment.
Set out in alphabetical order of first names, Brooks begins with Adeline Tiffanie Suwana, an Indonesian teenager who researched global warming, monsoonal flooding and the impact of the destruction of the mangrove swamps near her home. To combat flood waters flowing through her village each year, she formed the Friends of Nature. With more than 25,000 students they are replanting the mangroves and have also planted coral reefs and promoted ecotourism.
Familiar historical figures, Joan of Arc, astronaut Sally Ride, literary influencers - Hans Christian Andersen and Ursula Le Guin - join modern day heroes like Kesz Valdez. He rose from living on the streets at the age of four to forming the Championing Community Children which supports the thousands of Filipino street kids. Brooks brings together a diverse range of people, 'Bikini Kill the US' feminist punk band, Pope Francis, Brazilian skate-boarding champion Leticia Bufoni, and French balloonist Sophie Blanchard, the first female astronaut.
Quintin Winter's visually appealing full colour illustrations and the vibrant backgrounds make this an exciting and engaging book.
Ben Brooks
Stories for kids who dare to be different
is perfect for sharing with students from Upper Primary and Secondary schools, supporting the HASS, Health and Science curriculums, studying human endeavours, social influencers, stereotype changers and environmental activists. Each biography is written in a clear, concise easy to follow style, just right for sharing daily with a class. Brooks empowers his readers to 'be the change you wish to see in the world' (Mahatma Gandhi.)
Rhyllis Bignell