Review Blog
Jul 16 2018
Can I touch your hair? by Irene Latham and Charles Waters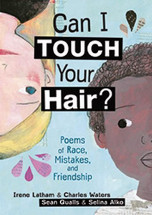 Carolrhoda Books, 2018. ISBN 9781512404425
(Age: 10+) "Can I touch your hair? Poems of race, mistakes and friendship" is described on the blurb as being 'a compelling portrait of two youngsters dancing delicately through a racial minefield' and is a reasonably accurate explanation.
The book uses a fictional setup of a black and a white student who have to work together on a poem project to explore the feelings of both students in a world filled with misunderstandings of race in America.
From an Australian point of view, lots of the subjects are irrelevant to our society but the message is still important. It shows that in America, even in our modern society, people with dark skin still feel in the minority and even at a young age children understand what racism is and see its effects. I think it also tries to show that these two young people, although different, experience the same things like friendship rifts, family issues and resolutions to their problems.
The book it formatted into 16 sections - with a poem from each child included and then a final joint poem to their teacher.
This book could be used to teach poetry, racism, but also kindness and friendship as the similarities become evident and the differences don't make as much difference to the two characters.
I quite like the illustrations with a mixture of paint, pencil and collage included. They are fairly colourful and add interest to the poems within that section.
The American based content is a bit off putting but could still be used for certain teaching areas.
Lauren Fountain