Review Blog
Jun 13 2018
Be Cool Be Nice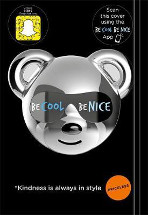 Templar Publishing, 2018. ISBN 9781787410961
(Age: Teenager/Young Adult) Recommended. I have to be honest when I first saw this book, I thought it was just another activity book but how wrong was I! After doing some googling, I was amazed with the background of this book and the meaning behind it. This is a must read for all boys and girls who have experienced the following:

Dealt with drama
Have experienced bullying
Have experienced selfie addiction
Have experienced Chronic Bad Attitude Syndrome (CBAS)
Have goals
This campaign was launched with Kendall Jenner and Willow Smith and is the first ever collaboration with Snapchat.
Be Cool Be Nice
promotes kindness, good manners and civility, and encourages us all to interact and use social media in a positive way so we 'check it before we wreck it.'
This is a fantastic initiative in the everchanging technological world that we live in and attempts to tackle some of the challenges our children are faced with. It is three-fold - journal, interactive manual and friend. It exposes children to values that will hold them in good stead in life. It offers timeless messages, motivation and positive affirmations. The reader is encouraged to reflect and learn and with the added bonus of stickers, beautiful illustrations and postcards designed by iconic brands such as Burberry, Marc Jacobs and Pat McGrath. The book is a true masterpiece. With links to snapchat and an app it will be a winner with the digital natives.
Kathryn Schumacher