Review Blog
Apr 30 2018
Trell by Dick Lehr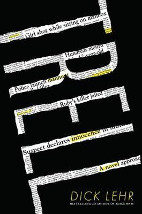 Candlewick Press, 2018. ISBN 9780763692759
(Age: 12+) Highly recommended. Themes: Gangs, Crime, Murder, Innocence, Justice, Boston (USA). When Trell gets to go to a fancy private school outside Boston called Weld, after winning a scholarship from her impoverished city school, she is at a loss to fit in. It is only when she reads a poem which tells of the great divide, of the inability of others to know her, a poor black woman, that she decides to keep her head down and make the best of being there. One thing she never tells her classmates is that her father is in prison for life and that she and her mother make the arduous round trip each Sunday to visit the man who will never be released. One Sunday she meets a newly qualified lawyer, acting on behalf of one of the other inmates, and it is she that Trell and her mother befriend, hoping that she will at least read the trial documents and take on his case. Trell becomes her work experience student and is able to help with her father's case, and so give the reader an exceptional insight into court procedure.
Written by Dick Lehr, an investigative journalist who has produced a number of books about corruption in Boston, Trell is based around a real case, that of Shawn Drumgold, a small time drug dealer, convicted of murder which was later overturned. Trell is a highly addictive tale of injustice, made even more urgent with the narrative voice of a thirteen year old girl, shocked by the ease with which one man came to be arrested and convicted without any physical evidence.
It is her persistence that sees a journalist redeem himself, taking on her father's case overcoming major personal hurdles himself. Clemens who works for the Boston Globe in the graveyard shift has long avoided any real work, the death of his son shattering his life. But this one girl's persistence moves him and he begins to investigate the case. Together they get trial and police documents , putting together an array of witnesses to reinterview, adding a pieces of evidence until it comes to show without a doubt that Trell's father was not the killer. Trell is fearless, even fronting the local gang boss, Thumper to get at the truth.
This is a world brought to the page with absolute clarity. The descriptions of the poor Boston suburbs, the rich school, the prison, the journalist's apartment, the gated house of the gang boss, all ring true, making the reader shudder with disbelief as Trell navigates her way around them in her fight to get her father out of prison.
The unusual cover will entice readers to devour the first page and once hooked will be impelled to finish in one sitting.
Fran Knight