Review Blog
Oct 04 2017
Forest dark by Nicole Krauss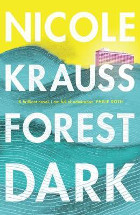 Bloomsbury, 2017. ISBN 9781408871799
(Age: Adult) Have you ever felt there is another one of you, unknown, living somewhere in the world, or thought that the life you are living you have lived before, or lived simultaneously with some other existence? Could there be a multiverse, another form of the universe? The two separate protagonists in
Forest dark
are each contemplating their own existence - Epstein has recently lost his parents and his life has changed from driven achievement to gradually dispossessing himself of all the valuables he has acquired. He wants to create a memorial that stays as a reminder of his parents, and also contribute something enduring for the country of Israel - after all, he may be a descendant of David, or so the rabbi Klausner tries to convince him. And at the same time, a novelist from Brooklyn, leaves her family, and returns to the holiday hotel of her childhood - the Brutalist construction of the Tel Aviv Hilton, intrigued by the mystery of the man who threw himself to his death from the 15th floor. She encounters Friedman, literary professor, possible Mossad agent, with a strange story of another life lived by the novelist Kafka, in Palestine, after his assumed death.
Each of them, the lawyer Epstein, and the novelist, enter a realm of dream-like detachment and contemplation, trying to gain perspective on their own lives, and understand what their newly discovered guides are telling them. Each tries to fit stories from their past with their new discovery of the present. They ponder 'the forest dark' having wandered from the straightforward pathway, into a new understanding of the present.
Krauss's novel is a perplexing but thoughtful novel, and invites more than one reading.
Helen Eddy