Review Blog
Jan 30 2017
Malkin Moonlight by Emma Cox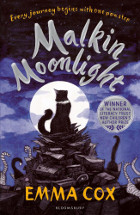 Ill. by Rohan Eason. Bloomsbury, 2016. ISBN 9781408870846
(Age: 9+) Recommended. Emma Cox's Malkin Moonlight won the 2015 New Children's Author Prize for the National Literacy Trust. Cox delves deeply into the cat's world, and she creates a believable society, where cats can communicate, read, marry and support each other. Similar to Watership Down and Guardians of the Ga'Hoole, we follow the path of a young kitten as he grows into cathood, learns life lessons and ventures far from home.
Black cat, Malkin Moonlight is the narrator of this carefully crafted tale, his story begins with a narrow escape from an unkind owner. As a kitten, Malkin talks to the Moon who recognises his special traits and marks him with a beautiful white collar. The Moon's advice guides his path, and influences the life choices he makes. He is a kind, brave feline who will make sacrifices for his friends and use his skills to be a peacemaker.
Malkin's friendship with a beautiful domestic kitten Roux is mutually rewarding, she teaches him to read and he encourages her to venture further from her home, to experience the feel of sand on her paws and the salty sea spray. Malkin's sixth sense assists him in protecting a swan's eggs from a hungry vole and leads him to rescue the father swan trapped in netting.
On the night of the Blue Moon Malkin and Roux are married, but happiness turns to sadness when Roux's owners sell their home and pub and move across town. A month later, the cats meet again on the seawall and Horatio the seagull guides them to their new home the Recycling Centre. Here amidst the sections of Newspapers and Aluminium and Tin Cans, they settle in to life with the friendly cats that sleep on the mattresses, read the papers and play amongst the recycled goods.
On the other side of the wall in the toxic wasteland live the Putrescibles, evil cats with scarred bodies who eke out their existence in a dirty disgusting environment. They fight the cats of the Recycling Plant carrying on a deep-seated feud. Malkin's rescue of a Putrescible kitten, Calica is the turning point. As the wasteland is cleaned up and the rubbish removed, Malkin brings both groups of cats together to live in the safety of the Recycling Plant.
Emma Cox explores a range of themes including caring for the environment, sustaining animal life, the impact of pollutants on the land and waterways. Malkin Moonlight celebrates the power of love, being courageous, facing your fears and living life to the fullest. Rohan Eason's line drawings add drama and liveliness to the story. This is a wonderfully written text, full of descriptive imagery and well-developed characters perfect for a Middle Primary class novel.
Rhyllis Bignell.