Review Blog
Dec 12 2016
Stealing Snow by Danielle Paige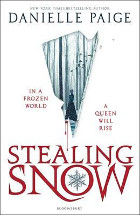 Bloomsbury, 2016. ISBN 9781408872932
(Age: 11+) Recommended. Snow's life changed dramatically when she was 6 - she tried to walk through a mirror and was committed to the Whittaker Psychiatric Institute for the next eleven years of her life. A rather harsh outcome for one fairly insignificant act. When the reader meets her, Snow has institutionalised living down to a fine art, which is why it comes as a surprise when she ditches all that she knows for an icy, magical kingdom, where even Snow wonders whether she is simply having a psychotic break or has overdone her meds.
In a fast and furious retelling of the
Snow Queen
, Danielle Paige hooks the reader with a magical tree, witches, thieves who steal faces before they thieve, werebeings, an evil king, a formidable foe and 3 males who have captivated Snow even though she struggles to remain true to Bale, her only friend from her institutionalised life.
While most of the characterization is lacking in depth, the tempo of the storytelling compensates. Paige is also expert at creating true villains which is a boon for the reader and which led to one of the most unexpected twists in the book. It's enjoyable. Read it.
Ros Lange