Review Blog
Oct 28 2016
My Lovely Christmas Book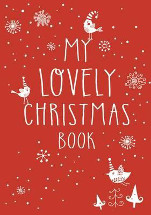 Bloomsbury, 2016. ISBN 9781408883679
(Age: 7+) Recommended. Craft. Puzzles. Colouring in activities. A book to appeal to anyone who enjoys craft, puzzles and making things,
My lovely Christmas book
is sure to give many hours of pleasure to the lucky recipient of this book. Beautifully illustrated with gorgeous patterns and colours, it will have immediate appeal. There is the opportunity to paste in a photo at the beginning to make it personal, and then the following pages have vivid decorations that can be made into paper chains. This is followed by a Christmas tree maze for the problem solver to work out as well as other puzzles throughout the book. Christmas decorations can be coloured in or cut out to decorate the Christmas tree and there are many craft ideas to make, like an angel and snowflakes. Of particular interest for me was the ability to cut out and make the decorative gift cards and place name cards, very useful for last minute gifts and Christmas settings.
The reader is also encouraged to do lots of creative writing, with the book going through the twelve days of Christmas as well as having diary entries and poetry. There are spots to make Christmas card lists and ones of presents for friends and family and the opportunity to do drawings and doodles.
This would make a great present to give before the twelve days of Christmas come along, as it would result in some lovely decorations around the house and many creative activities being undertaken.
Pat Pledger