Review Blog
Jul 25 2016
The Tale of Birle by Cynthia Voigt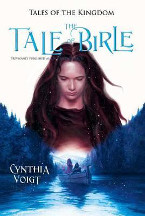 Tales of the Kingdom
bk 2. Simon and Schuster, 2015. ISBN 9781481422048
(Age: 12+) Highly recommended. Formerly published as
On Fortune's Wheel
this is the second in the wonderful
Tales of the Kingdom
series. Two generations after
The tale of Gwyn
(
Jackaroo
), another innkeeper's daughter finds herself in danger. One night Birle tries to stop a thief from stealing one of her father's boats, but finds herself travelling down the river with Lord Orien, the heir to the Earl of Sutherland. Many dangers face them and after being marooned on a deserted island, find themselves in the hands of slavers. Birle is fortunate enough to become the scribe to an elderly philosopher, but Orien is half starved and finally sent to work in the mines. When the city is attacked, Birle grabs the opportunity to rescue Orien and finally both make their way back to the Kingdom.
Voigt explores the evil of slavery and rule under a despot in a vivid and challenging way. Even though Birle's master feeds her and lets her use her skills of reading and writing to help him, when it is time to escape the invasion, he has no care at all for either Burl or Yul, the giant of a man who was sold with Birle. Orien's masters are ones who are happy to starve him and then send him off to the mines. It is Birle who acts honourably - she is not prepared to desert her friends even if she puts herself in danger. She is the one who has the courage to find a way to escape slavery and she is the one who uses all her skills to get them home.
This is another beautifully written narrative of the coming of age of a young girl who is brave, independent. It is also a moving love story of two young people trying to find their place in the world.
Pat Pledger