Review Blog
Jul 08 2016
Illusions of Fate by Kiersten White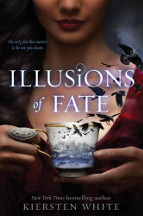 HarperCollins, 2015. ISBN 9780062135902
(Age: 14+) Recommended. Fantasy. Regency period. Romance. Jessamin is taken on a whirlwind ride when she is caught up in a power struggle with gorgeous Finn Ackerly and wicked Lord Downpike.
Jessamin is studying at a school which doesn't accept her because of her roots in the island of Melei, her dark skin and her parentage. When she meets Finn she discovers that magic is rife in the ruling classes and she is swept up in intrigue, danger and deception.
Readers who enjoy books set in the Regency period will find that this fast paced novel will tick all the boxes for them. The historical setting is vividly drawn with White skilfully depicting the contrast between the aristocrats, their wealth and influence, and that of the the people from Melei, who are employed in lowly paid jobs and looked down upon. There are underlying themes of the effects of colonialism, the racism that people with dark skin and hair suffer and the sexist attitudes to women. There is danger and action galore as Lord Downpike tries to destroy Finn and Jessamin, and the magic that exists is exciting. Then there is Sir Bird, a fantastic and heroic raven. The romance between Finn and Jessamin grows slowly and Jessamin's friendship with Eleanor is a stand out. All of this is wrapped up with witty dialogue and cliff hangers at the end of chapters to ensure that the reader will not put the book down.
It was great to see a fully realised stand-alone fantasy with memorable characters and plot. Readers who enjoyed
Lady Helen and the Dark Days Club
by Alison Good man and
The Glamourist histories
by Mary Robinette Kowal will love
Illusions of Fate.
Pat Pledger