Review Blog
Jan 22 2016
The extraordinary adventures of Alfred Kropp by Rick Yancey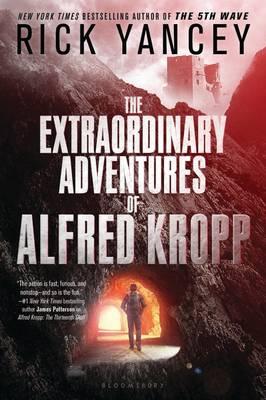 Bloomsbury, 2015. ISBN 9781619639164
(Age: 13+) Highly recommended. This book is a really great read. It is a delightful mix of fantasy, adventure and action.
The story is told by Alfred Kropp. Alfred is in High School and likes to read or listen to music in his room at home. Because he is very tall with a large head (and the nick name 'Frankenstein'), it is very noticeable that he doesn't fit in at school or on the football field. He has a really good heart, and despairs of the many ways he can find to be a 'screw up'.
Life had not been kind to Alfred in his first fifteen years, and the reader feels compassion and empathy for him as he is convinced by his Uncle Farrell to take part in a scheme to repatriate the famous sword Excalibur. This is the beginning of an adventure that involves knights, monks, fabulously expensive fast cars, helicopters, sword fights and violence.
The book is a powerful exploration of good versus evil.
The last knight, Bennacio, finds hidden depths in Alfred, and the reader discovers Alfred is not just very funny, but well up to the challenge of saving the world. Bennacio tells Alfred: 'No battle was ever won, no great deed accomplished, by wallowing in guilt and regret.' Time and again throughout the story it is evident that no matter how well you 'screw up' there is the opportunity for redemption and atonement.
The characters in the story are compelled to discover what they hold dear, to be true to themselves - and to make a stand. There are many defining moments for Alfred that contribute to the inevitability of his final stand.
Originally published in 2005, this book has two sequels:
Alfred Kropp: The Seal of Solomon
and
Alfred Kropp: The Thirteenth Skull
.
Linda Guthrie