Review Blog
Jul 02 2009
Ten mile river by Paul Griffin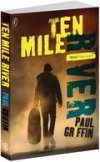 Text, 2009
(Age 14+) Recommended. 14 year old Ray and Jose are best friends. Jose is good looking with a talent for wise cracking; Ray is large, strong and very intelligent. Finding the juvenile detention centre not to their taste, they go on the run from the authorities. They decide to hole up in an abandoned shack near Ten Mile River. They furnish it with a stolen TV, Cable TV and other stolen goods and keep body and soul together by stealing cars. When they meet Trini, they both fall in love with her and she tries to get them to join the mainstream society.
The powerful narration pulled me into this gritty urban tale as soon as I started it. I became totally involved in the story of the boys' lives and was horrified with how they lived. Clever dialogue brought alive the boys' beliefs and Jose's mispronunciations often had me laughing at the same time that I wanted to cry because of his lack of schooling.
I emphasised with Ray's dilemma about staying on the run. He is smarter than Jose and can see the hopelessness of their plight, but cannot seem to break away from his bonds of loyalty to the other boy. Often going along with Jose and making idiotic decisions, it seems as if he will never be able to use his formidable intelligence and will always give way to the other boy.
Griffin gives the reader an alternative view to the many books that are written about teens with angst, but who usually have comfortable home lives, with at least one parent caring for them. It is a searing novel about street kids staying alive in New York.
I can imagine that this book would have strong appeal to reluctant boy readers or those who are disenchanted with school. It could possibly be a useful novel to use in class. Because of the strong language, though, it would need to be read thoroughly by the teacher before using it as a class set.
Pat Pledger