Review Blog
May 13 2015
Big Digger ABC by Margaret Mayo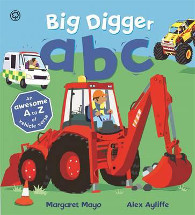 Ill. by Alex Ayliffe.
Awesome Engines
. Hachette, 2015. ISBN 9781408332696
(Age: 3-6) Recommended. Subjects: Transport, Boats, Cars, Trucks, Road vehicles. Margaret Mayo and Alex Ayliffe have rolled out another fun picture book in their
Awesome Engines
series. From ambulances through to quad bikes to zooming rockets
Big Digger ABC
is filled with transport on land, under the sea and into the sky. Margaret Mayo's fun short verses use descriptive phrases, sounds and actions that are great to read aloud, youngsters will soon be reading along too! There's the Express Train, super-fast and speeding, the ice-breaker, crack, crack, cracking and the narrowboat chugging through the canals of England. Underwater robots dive to find lost treasures while the eXtra big wheels of the monster trucks race around the track.
Alex Ayliffe's layered papercut illustrations and her vibrant use of colours showcase each of these awesome engines.
This is an exciting alphabet book for young ones who love trains, planes and all types of transport.
Rhyllis Bignell