Review Blog
Sep 29 2014
Ricky Ricotta's Mighty Robot series by Dav Pilkey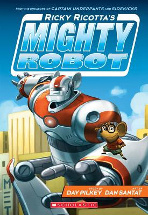 Scholastic, 2014.
Ricky Ricotta's mighty robot. ISBN 9780545630092
Ricky Ricotta's mighty robot vs the mutant mosquitoes from Mercury. ISBN 9780545630108.
(Ages 4-8) Highly recommended. The first two titles in a series by the creator of Captain Underpants and Super Diaper Baby. These books contain Pilkey's trademark mix of silly humour, hilarious characters, and comic-style illustrations. With a comic-book feel to them, these easy-read chapter novels will appeal to young readers who need the pictures to break up the text, while still introducing new vocabulary. They also contain the ever-popular Flip-o-rama feature of the Captain Underpants books.
In the first title, we meet Ricky Ricotta, a mouse who dislikes bullies, and Dr Stinky, an evil scientist who mistreats his robot. Ricky steps in to save the robot, providing a great message about standing up to bullies.
The second title involves an army of mutant mosquitoes who are sent to invade Earth, as their leader Mr Mosquito is sick of the horrid hot weather on Mercury. Ricky and his robot must work together to save the planet.
This series is tamer than most of Pilkey's other works, with less of the toilet humour but enough silliness to please fans. It looks to be an exciting series, with more titles following over the next twelve months.
Donella Reed.