Review Blog
Sep 23 2014
I love dogs by Emma Dodd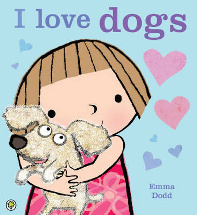 Orchard Books, 2014. ISBN 9781408331262.
(Age: 3-5 years) A little girl is looking for the perfect puppy as her new pet and she explores all the options in this picture book. With simple to read rhyming text, she contemplates her options, 'I love spotty, bouncy jumpy, dotty dogs.' Some of the dogs prove a little too hard to handle and she also states her dislikes of snappy, growly, never happy dogs. Her choice of a sweet willy-nilly dog brings her much joy.
This new edition of I love dogs is part of the popular I love you series by British author Emma Dodd. From the endpapers covered in dog biscuits to bright illustrations of posh dogs, pretty dogs, gruff dogs, canines of every shape and size, this book is visually engaging.
Rhyllis Bignell
Editor's note: There is a companion volume, I love cats. ISBN 9781408331255.