Review Blog
Sep 23 2014
Lord of Opium by Nancy Farmer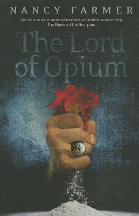 Simon and Schuster, 2013. ISBN 9781481401067.
(Ages 15+) Action. With El Patron dead Matt, a clone is thrust into a position of immense power. This position is the Lord of Opium, dictator of the most powerful territory in the Dope Confederacy. This means that Matt is now the most powerful drug lord in this dystopian Mexico. At the beginning of the book there is some extremely important information for those who have not read the first book. There are lists of characters and how they relate to each other, a map of both The United States and Mexico in its dystopian drug lord state and a time line of where certain events took place. This drug filled story takes place between 2137 and 2138. Eejits are the slaves of the drug lord and despite the hatred of such an idea Matt is forced to deal with a variety of them. This government is the idea of true dictatorship, a dictatorship where no one has a say because they have no opinions. This book is written in a 1st person continuous narrative form. The concept of the world that they live in is very interesting but the drugs make the story boring. The book is slow and the action does not begin until about three quarters of the way though the book. The other very difficult thing about this book is the Spanish. As this story is set in a dystopian Mexico the characters use Spanish throughout the story. This is wonderful if you understand Spanish but as one who doesn't I missed key storylines and character information. Spanish is to Lord of Opium as French is to Jane Eyre. This story would be suitble for someone who likes reading dystopian novels that don't actually go anywhere.
Azriel P. (Student)
Editor's note: The first book in the series, House of the Scorpion, won the US National Book Award and it would be best to read it before reading Lord of Opium.