Review Blog
Jul 14 2014
Captain Underpants and the revolting revenge of the radioactive robo-boxers by Dav Pilkey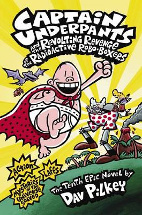 Scholastic Australia, 2014. ISBN 9781743621806
(Ages: 9+) Laugh out loud humour with FLIP-O-RAMA that allows you to animate the action.
Captain Underpants returns in his epic tenth novel with Mr Krupp who turns into Captain Underpants with the click of a finger. In this novel George, Harold, Sulu and Crackers embark on an adventure to figure out a way to undo the time-travelling hijinks of Tippy Tinkletrousers that prevented George and Harold from creating Captain Underpants in the first place!
Tippy Tinkletrousers was in big trouble because he had zapped himself back in time five years, and accidentally scared four bullies from the school. This thoughtless mistake set in motion a series of events that ultimately got Mr Krupp fired. Since there was no Mr Krupp, there was no Captain Underpants. Since there was no Captain Underpants, there was nobody to save the world from the terrible devastation caused by the villains from the first three epic novels.
To fix this problem Tinkletrousers decides he has to go back in time to stop himself from scaring those four bullies. After several seconds of made for television style of special effects, Tippy found himself transported to the awful night of the terrifying thunderstorm. He knew at any moment the four bullies would come running from the school and tear across the football field. Then they would come face to face with a slightly younger version of Tippy who was the only one who could stop it all from happening.
Tippy, George, Harold, Sulu and Crackers constantly travel through different times, including the caveman era where Tippy Tinkletrousers gets pummelled in many different ways. By page 210 of the book, the author tells when and how our universe began, what causes this to happen, what is this theory called, how did the dinosaurs become extinct, what caused the last major ice age and who made the world's first cave drawing. Unfortunately, this information is not useful for any practical benefits.
Page 212 contains the 'I'm smarter than you' song which is bound to make you giggle in true Underpants style.
The novel ends with the explosion back when nothing existed, when Sulu, Crackers and Tippy cause the whole universe to form. While all the action was happening, before Crackers left, she leaves three purple and orange speckled eggs.
Could this be the beginning of another Captain Underpants adventure? Stay tuned to find out.
Christina Sapio.