Review Blog
Mar 27 2013
The Emerald Quest by Gill Vickery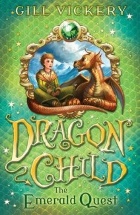 Dragon Child
bk 1. A and C Black 2012. ISBN 978-1-4081-7412-8.
(Age: 8-11) Recommended.
The Emerald Quest
is the first in a series of books about Tia, a young girl who has been kidnapped and taken to live with dragons. She has been raised as part of a dragon family and is known as a DragonChild. Although her own dragon family love and care for her she is taunted by the other dragons about her human mother, whom they consider to be a witch. To prove herself to the dragon clan she begins an adventure to find their stolen 'Jewels of Power', taken by the witches. The first quest is for the emerald, hence the title. The following novel has the next precious stone being an opal.
Gill Vickery's small biography states that she was a teacher librarian and she has written this compact novel with a lot of appealing features for her target audience: dragons, a quest that spans several books and a child who shows more bravery than her size dictates. The novel is only 79 pages long and is interspersed with beautiful black and white illustrations. This will be a fantasy book that younger children can read and enjoy. I recommend this book for students 8 to 11 years old.
Jane Moore