Review Blog
Mar 25 2013
Blood prophecy by Alyxandra Harvey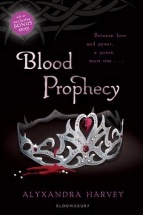 Drake Chronicles
, bk 6. Bloomsbury, 2013. ISBN 9781408836699.
(Age: 13+) Paranormal. In the conclusion to the
Drake Chronicles
, Solange Drake has been crowned Queen of the Vampires, fulfilling an ancient prophecy. However she has been possessed by the spirit of Viola, who is determined to get revenge for the wrongs that were committed centuries before. Solange, with the help of her friends, must break Viola's bonds and save everyone.
Blood prophecy
was a satisfying conclusion to the series. Harvey was very clever in the way that she managed to bring together all of the main characters from the series, each helping Solange to overcome the evil that was gripping her. The story is told in two voices, that of Solange and Lucy, but the Drake brothers and their feisty girlfriends feature strongly as well, and it was good to see them all together in one big action packed adventure.
The scenes of the middle ages, knights, castles, witches and landscape where Solange was transported by Viola's control were vivid and added to the tension of the story. Romance of course is important in the
Drake Chronicles
and this was not omitted either.
All in all the
Drake Chronicles
was a memorable and well written paranormal romance series with plenty of action and strong characterisation and
Blood prophecy
ends it all very well.
Pat Pledger