Review Blog
Feb 27 2013
Just One Day by Gayle Forman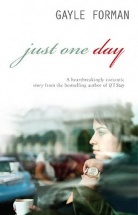 Definitions, 2013. ISBN: 978-1-849-41566-8.
(Age: Teens) Recommended. In just one day anything could happen.
Allyson has lived a sheltered life for as long as she can remember; she has never done anything dangerous or rebellious. That is until she travels to Paris with a strange boy for just one day. Allyson rebels, loves and losses all in one day. Exhausted both emotionally and physically she returns to America in a state of severe depression not knowing whether she had made the biggest mistake of her life or not. She is not the happy collage student her parents had expected her to be and despite this she pushes herself to live up to their high expectations and forget about her day in Paris. It is nearly impossible to do so. She soon decides to return to Paris during the summer break. Her parents are horrified to learn that their obedient daughter had gone to Paris without their knowledge and refuse to sponsor her trip. Allyson is forced to work her way for the first time in her life. She feels drained but alive. But finding a boy with only a description and a common name is much harder than she expects.
Just One Day is an enlightening novel about taking chances and growing up. Set across continents in Europe and America and centering around two of Shakespeare's plays As You Like It and The Twelfth Night the novel is both informative and engaging. With multiple sub-plots and codas this well written novel is a heartbreakingly compelling read which I would recommend to fans of romance fiction.
Kayla Gaskell (Student).