Review Blog
Nov 01 2012
My first book of transport by Charlotte Guillain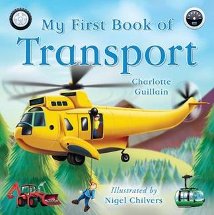 Ill. by Nigel Chivers. Bloomsbury, 2012. ISBN 9781 4081 7819 5.
(Age: 7+) Recommended. Information book. Transport. An easy to use overview of the forms of transport which children will see in their everyday lives, this well illustrated and convenient to handle book will be a boon in classrooms where transport is under discussion. Each double page has a few clues on the verso with the repeated refrain, 'what could it be?' on the recto asking the students to guess what the mode of transport is, the answer peeping at them from behind some camouflage on that page. The following page then has a full page illustration about that form of transport with information about it, and some facts about its use. The question and answer technique is used throughout the book.
Although some of the forms of transport are not commonly seen in Australia, a seaplane for example, the ten items also includes a submarine, snowmobile, cable car, digger, bulldozer, high speed train, submarine and a helicopter. The whole is rounded off with a summary page of transport words and a transport quiz.
Fran Knight