Review Blog
Sep 13 2012
Judy Moody and the NOT bummer summer by Megan McDonald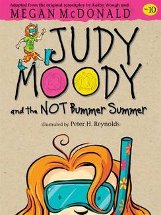 Ill. by Peter H. Reynolds. Walker Books; Australia, 2011. ISBN 9781406337655.
Based on the recent movie of the same name this is the 10th book in the Judy Moody series and will be welcomed by Judy Moody fans.
Summer vacation is about to begin and Judy has decided it will be the most thrilling summer ever. Her plans are decidedly disrupted when she finds out that her friends are both going away for the summer. Rocky is headed to Circus camp and Amy to Borneo with her mother to help save a lost tribe from loggers.
Judy is in an even bigger bad mood when she discovers her parents are heading to California to help her grandparents move to a retirement home leaving Judy and Stink, her brother, in the care of Aunt Opal, world traveller and guerrilla artist.
Aunt Opal turns out to be much more fun than Judy anticipated and joins in the hunt for thrill points which seem to elude Judy despite her best efforts while her friends keep adding to her misery by reporting their adventures.
Meanwhile Stink joins the Bigfoot Believers Club and sets out to be the first to catch sight of Bigfoot while the challenge of finding Mr Todd, Judy's teacher, appears from time to time.
All ends well as Aunt Opal helps Judy realise that all the adventures and misadventures over summer add up to a thrilling summer and certainly much better than staying in her room as she threatened.
Younger readers will enjoy the easy reading style and format, accompanied by the illustrations interspersed throughout the book. I found some of the episodes disjointed at times for example the poo sandwich mix-up was probably better represented visually in the movie.
Sue Keane