Review Blog
Jun 04 2012
Black heart by Holly Black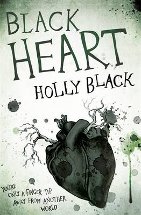 Curse workers, book 3. Gollanz, 2012. ISBN 978575096806.
(Age: 15+) Recommended. The third and last book following
White Cat
and
Red glove
sees a stunning and very satisfying conclusion to Holly Black's original trilogy. Cassel Sharpe is doing his best to be good. He believes that the Feds are the good guys and that he should help them out, but the route to being a Fed is chaotic. A further dilemma for him is the fact that he's in love in Lila who is the daughter of the big boss of the Mob. She doesn't believe that he loves her and he thinks that he can't trust her. Then the Feds want him to take out a politician and he desperately has to work out what is a con and what is the truth.
I loved this series, especially the voice of Cassel. He is such a smart operator, but vulnerable and loyal to his mother and to Lila. His moral dilemmas seem very real and the tribulations that he goes through left me thinking about the concept of good and evil and what is right and what is wrong. Who are really the evil people in this story and who can be trusted? Cassel's working through all the issues see him coming of age and making decisions for himself.
Black keeps up the pace of the story all the way through. She tosses in a couple of subplots that add depth as Deneca and Sam fight their way through a tumultuous relationship and Cassel has to work out who is blackmailing Mina. Indeed it is these subplots that while occasionally threatening to take over from the main story, provide the fodder that Cassel needs to think through whether things, including morals and ethics, are always black and white.
The romance is great as well. Lila is a fascinating character and the ending is satisfying and neatly tied up. The idea of curse workers and the difficulty for Cassel of being a transformation worker is a unique concept and one that works really well. Descriptions of cons and the background to running a scam are also fascinating.
The Curse workers
series is an original, well-written and exciting series that will be enjoyed by both boys and girls who enjoy paranormal stories.
Pat Pledger