Review Blog
Dec 05 2011
Beat the band by Don Calame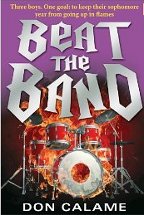 Candlewick Press, 2010. ISBN 9780763656638.
(Age: 15+) Sophomore year is all about scoring gorgeous girls and Cooper Redmond is up for the challenge. Along with his mates Matt and Sean, Coop is feeling awesomely optimistic until his health teacher pairs him with 'Hot Dog' Helen to prepare a class presentation. She is the school pariah and bottom of the popularity stakes. Cooper can't believe his reputation is going to be shattered before he has a chance to impress Prudence, Kelly and all the other hot babes. He has to put as much distance between him and Helen as possible and entering the Battle of The Bands competition might just be the way to salvage his street cred. The only problem is that he and his mates suck when it comes to performance.
A sequel to the very popular
Swim The Fly
, this novel is both hilarious and entertaining. Readers will identify with Cooper and his dilemma of choosing between popularity versus integrity.
The energy he expends attempting to sabotage his partnership with Helen are innovative and excrutiating in equal measure. There are lessons to be learned and a moral to the story. Although this novel is probably aimed primarily at boys, it is an enjoyable read for all.
Tina Cain