Review Blog
Oct 31 2011
It's not summer without you by Jenny Han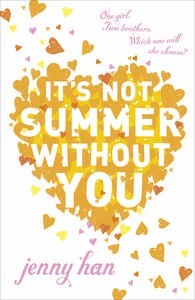 Penguin, 2011. ISBN 9780141330556.
(Age 14+) Romance. Belly (short for Isabel) has always lived for her summers at the beach. But this year it is different. Conrad is ignoring her since his mother's illness and she has stopped communicating with Jeremiah. When Jeremiah calls her to tell her that Conrad has disappeared days before vital exams, she goes with him to the beach house to see if they can find him.
In this sequel to The summer I turned pretty, Belly narrates the journey that she has gone through since last summer. A typical teen, she often seems selfish, as she describes the grief that everyone is experiencing about Susannah's illness. She is still obsessed with dour Conrad, even though it seems that his mother is the one who is pushing the romance and who wants him to take her to the prom. Jeremiah, too, although seeing other girls, seems to continue to have feelings for Belly. At times I found the fact that at least 3 boys were interested in her a bit difficult to imagine, as she doesn't come across as having an attractive personality or being the best friend available. There were times when I really wanted to tell Belly to get over herself, but the elements of romance and the teary moments during the book kept me going, and she did seem to be growing up a bit by the end of the book.
When I finished this I felt that I had been left up in the air and read the ending several times, trying to make sense of it. It wasn't until I went to Jenny Han's website that I realised that there is a third book to come, so no doubt Belly's dilemma about who she really loves will be resolved in that.
Girls will enjoy the romance and the popular eternal love triangle of two boys and one girl in both The summer I turned pretty and It's not summer without you, and will grab We'll always have summer when it is published.
Pat Pledger.