Review Blog
Jun 24 2011
Not Like Georgie by Scott Hatcher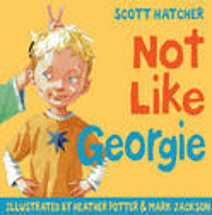 Ill. by Heather Potter and Mark Jackson. Walker Books, 2011. ISBN 9781921529504.
It's time for a birthday party and all the invitations have been sent, but one by one, the guests decline. Each one has a different reason (or excuse), but rather than feeling neglected or rejected, the little boy is very philosophical because no one can amuse him like his best friend Georgie can. No one can play blindfold soccer like Georgie; no one can make green vegetables disappear like Georgie; no one can lie in the backyard and talk about everything and nothing like Georgie. And Georgie IS coming to the party. So all is right with the world.
This is a touching book about friendship and the joy that comes from just valuing those who are important in your life for who they are, and knowing that your own self-worth has nothing to do with the number of people at your party or the money spent on holding it or having to have the big extravaganza.
This is the author's first picture book for children. He currently works at a school teaching teenagers who have Asperger's Syndrome and one wonders how much of the books theme has been influenced by this. There's nothing that indicates the little boy has Asperger's but his behaviour and focus is reminiscent of those whom I have worked with that have had this condition. Whether that's the case or not, it is, nevertheless, an engaging book that offers much scope for discussions about friendships. Definitely a keeper.
Barbara Braxton