Review Blog
Apr 27 2011
Violence 101 by Denis Wright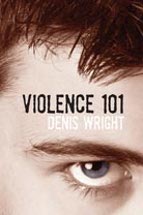 Black Dog Books, 2011. ISBN 9781742031781
(Age 14+) Violence 101 starts in a juvenile detention centre, following an extremely intelligent and violent boy named Hamish Graham. The dialogue switches from the normal type to parts of Hamish's journal. Hamish is 14 years old and has spent most of his life being sent between juvenile detention centres. While his intelligence is obvious, he does not really understand the world. He has three heroes, Te Rauparaha, a Maori chieftain, Charles Upham, a New Zealand war hero who was awarded the Victoria Cross two times, and Alexander the Great, a Greek general. In his journal he talks a lot about things he had done as a child. Then he hears about the accident that made one of his teachers resign from the army. He sets out to replicate what happened, almost killing himself.
This book was very well written, and it really made me think. The way Hamish changes over the course of the book, and his firm belief that the means are justified by the end make him a very interesting character.
Gareth Peer (Year 9)
Editor's note: This book was awarded New Zealand Post Book of the Year 2009, and was an Esther Glen Award finalist 2009.