Review Blog
Mar 07 2011
Revolution by Jennifer Donnelly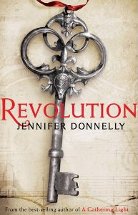 Bloomsbury, 2010. ISBN 9781408810453.
(Age 14+) Highly recommended. Jennifer Donnelly's award winning book A gathering light was a wonderful read, and in Revolution she brings the same detailed approach to history combining her tale of the French Revolution with a modern one. Andi is a girl who is on the brink of suicide. She blames herself for the death of her brother Truman, and is devastated when her father leaves home and her mother's breakdown. When her father unexpectedly visits, he insists that her mother is sent to a psychriatic hospital and takes Andi to Paris with him. A Nobel Prize winning DNA expert, he is testing the heart of a young child to see if it belonged to Louis-Charles, the heir to the French throne, who was imprisoned after his father was sent to the guillotine in the French Revolution. Andi becomes engrossed in an old diary that she has found in a guitar case and is so involved in the tragic story of Alexandrine Paradis and her relationship with the young prince that the past seems to be in her present.
Donnelly skillfully combines the historical details of Alex's life during the French Revolution with Andi's struggle to overcome her guilt and grief. The two girls are bound together by the common bonds of loss and love, which have not changed over two centuries. The French Revolution is vividly depicted in all its horror, the political aims of its leaders uncovered and the unfeeling treatment of a small boy is described in a heart breaking way.
The tension builds up to an almost unbearable point and I couldn't put down the second half of the book as I avidly followed the two stories asking myself would Andi recover from her grief in this 'stupid and brutal' world. And what happens to Alex in the French catacombs?
The book is so richly layered with meanings that it is easy to overlook them. Donnelly's references to music will be loved by music fans and will have readers less musical looking up both 18th century and modern music. The book is divided into three sections, Hell, Purgatory and Paradise, with references to Dante's Inferno, and even Andi's full name, Diandra Xenia Alpers, is an anagram for Alexandrine Paradis.
This is an outstanding book that deserves a place in all libraries. It would make an excellent class set or literature circle book.
Pat Pledger

Editor's note: Our teen reviewer also loved it.