Review Blog
Apr 23 2010
Conspiracy 365: March by Gabrielle Lord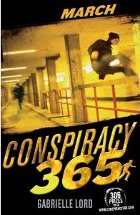 Scholastic, 2010. ISBN 9781741690354.
With 306 days to go, Callum's last memory is of being stuck in a train line with a train approaching. He wakes in a dark place alive and well, and as each minute ticks by he reveals his anxieties about how he came to be there and why. A man approaches who explains all to him. Repro as he is called, lives in a stone cellar beneath the train yard, and here, they tell each other their stories. But Callum must move on, so texts Boges for help with money and bandages. Boges is able to fill in some of the things Callum has missed while on the run, but he becomes even more desperate hearing that his sister is near death.
Jennifer phones him to meet her at the laboratory as she has news. Suspecting a trap, he is overjoyed to hear that she is holding a memory stick that his father gave her for safe keeping, but before they can work out how he can retrieve it, footsteps can be heard in the now deserted building. Like the lion in February, this time Callum is bitten by a death adder, but finding a syringe filled with anti venom, inoculates himself in the nick of time.
Catching a lift with a stranger, the driver realises that they are being followed and
March
ends with Callum trying to find a way out of the overturned truck, the driver's arm being pinned beneath. Breathless excitement reigns supreme. Another adventure next month.
Fran Knight