Review Blog
Aug 23 2019
The place on Dalhousie by Melina Marchetta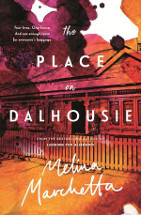 Viking, 2019. ISBN: 9780143793533.
(Age: Adult - Mature senior secondary) Highly recommended. Themes: Pregnancy, Blended families, Inheritance, Houses. Fans of Marchetta's writing will be overjoyed to read this story of Rosie Gennaro who has walked away from the place on Dalhousie that her father had renovated for his family. Devastated that he has married Martha less than a year after her mother's death, it takes her two years before she can return to the house where Martha now lives and face not only her new responsibilities but her memories of her mother and father.
Fans of
Saving Francesca
and
The piper's son
, will meet again the characters from these two novels and learn about what has happened to Jimmy over the years. He has met up with Rosie during a devastating flood in Queensland and after a brief affair, both have gone their separate ways trying to sort out where they belong. Jimmy desperately wants to be part of a family, and Marchetta with compassion and empathy, traces the story of these two young people as they learn about the nature of love and family. Jimmy comes back to Sydney and after searching so hard for a family of his own, may find one in the house on Dalhousie. He is so uncertain about his ability to love his son and to do the right things by Rosie, but surrounded by his friends, gradually comes to accept his responsibilities.
Marchetta also describes the netball team that empowers some of Martha's friends, her growing relationship with the netball coach, the neighbours who all try to help Rosie and then the house on Dalhousie which seems to have a life of its own. The stand-off between Rosie and Martha about the sale of the house is also central to the story and Marchetta discusses this
here
.
After finishing
The place on Dalhousie
, I felt compelled to go back to the two companion novels,
Saving Francesca
and
The piper's son
, savouring the warmth of Marchetta's writing, her depiction of love and loneliness and the strength of friendships over the years.
Pat Pledger