Review Blog
Jul 19 2019
The quiet at the end of the world by Lauren James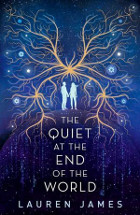 Walker Books, 2019. ISBN: 9781406375510. 352p; p/b.
(Age: 13+) Highly recommended. Themes: Science fiction, Dystopian fiction, Romance, Viruses, Diversity. How far would you go to save those you love? After a virus devastated the world and left people infertile, Lowrie and Shen are the two youngest left. Their ageing community loves and cossets them, and their days are happy, searching for bits of history in the mud of the Thames. Then they uncover a secret that threatens everything they have believed.
I read The quiet at the end of the world a few months ago and it was reviewed previously, but it is a story that has continued to stay with me and one that has a theme that often has me thinking of the meaning of humanity. James slowly builds up the tension as Lowrie and Shen find old treasures from the time when the virus first occurred. Lowrie researches the past of Maya, who describes what happened when the virus first took over the world and the development of the Babygrow app that became a couple's surrogate child. As their ageing community gradually decline, Lowrie and Shen have to face some hard decisions and heartbreak.
James skilfully builds up a world that feels real as Lowrie and Shen gradually uncover what has happened in the past. There is action and adventure, great character development and a riveting story line told in archived chat-logs and traditional narration.
This engrossing story would make a great class novel or literature circle text, giving participants lots of discussion points about the meaning of life, family and love.
Pat Pledger.