Review blog
Click here for the ReadPlus Review Blog RSS feed. Copy the link location into your feed reader.
Feb 21 2020
Max and the Midknights by Lincoln Peirce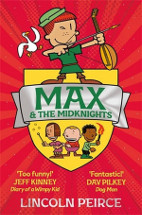 Macmillan Children's Books, 2020. ISBN: 9781529029260.
(Ages 9-12). Highly recommended. Max and the Midknights is a funny, exciting adventure story set in the Middle Ages and told with a mixture of text, speech bubbles and comic panels by the author of the Big Nate series.
The main character Max is a troubadour apprentice to Uncle Budrick but dearly wants to become a Knight. But there is a problem, Max is a girl, something that is not revealed until nearly 60 pages into the story. She travels with her Uncle to his childhood home Byjovias only to find that the kingdom has been taken over by a nasty treacherous King Gastley who has bewitched the population to make them compliant.
King Gastley makes her uncle his castle fool and Max sets out to rescue him with her new friends Kevyn, Millie and Simon (who form the Midknights) and a retired magician called Mumblin who often messes up his magic spells. Mumblin reveals to Max that she is mentioned in a book of Prophesies which says she is to undertake a journey to save the Kingdom. Max shows how brave and determined she is as she leads her group on the quest which includes encounters with zombies in the haunted woods, friendly flying dragons, a real knight and a sorceress. This story has everything from magic rings to enchanted swords and a lost king hidden in a high tower. Told using quite modern language but including some excellent information about life in the Middle Ages, this book will be popular with both boys and girls in middle primary. Themes: Knights and knighthood, Middle Ages, Troubadours, Sex role.
Gabrielle Anderson
Feb 21 2020
Charlie morphs into a mammoth by Sam Copeland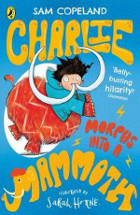 Illus. by Sarah Horne. Penguin Books, 2020. ISBN: 9780241346235. 320pp.
(Ages 8-12). Highly recommended. Charlie McGuffin has a unique ability to change into animals and he uses this ability to help his friends and solve problems, just like a real super-hero. In this third very funny book of the series he is beginning to be able to control which animal he changes into. Charlie can metamorphize just by thinking of something sad or upsetting and he uses the fact that his mum and dad seem to be on the verge of separating as the tool to change in this book.
Having faced a very sick brother, a schoolyard bully and nearly losing the family home in the previous books Charlie is faced with his parent's constant arguments and some mysterious animal disappearances around him in this story. His friends are also are finding it increasingly difficult to keep his special ability a secret and when it starts to appear as if he himself is behind the petnappings he and his friends band together to find out what is really going on.
Sam Copeland engages the reader with a great story but also with some disruptions at various points in the book, such as letters from readers of his previous books at the beginning, disagreements with his illustrator halfway through and conflicts with the publisher about some content. The fact that the titles of his books have little to do with the story is a source of funny exchanges with the publisher at various times throughout the story. Small footnotes about the animals Charlie changes into are also a great addition to the book and could be used by teachers to explore the use of them as a tool in writing.
Children will love the fact that sometimes Charlie becomes a creature that puts him into some very yucky places especially when he turns into a Nematode worm and is eaten by his enemy Dylan. His journey through Dylan's body is an entertaining couple of chapters indeed! An entertaining read. Themes: Family relationships, Shapeshifters/Metamorphosis, Friendship.
Gabrielle Anderson
Feb 21 2020
Orphans of the Tide by Struan Murray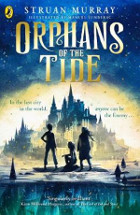 Puffin, 2020. ISBN: 9780241384435.
(Age: 13+) Recommended. Ellie is an orphan, who is a tinkerer and is continuing her Mother's trade as fixer and creator of strange items in her workshop near the Orphanage where she used to live. Her brother's recent death has left her alone and she has had to learn to be resilient and self-reliant. In a world where the sea has claimed most of the city, a whale is beached on the top of one of the submerged buildings. Ellie releases a boy, Seth, from within the dead carcass and with that act of rescue also unleashes the fear of her home community about the dark power known as the Enemy - the evil cause of the devastation in her City. This enemy is known to take over and possess the body of an individual (the Vessel) and seems to parasitise and wreak power over their life and create havoc in the island city. The local people of the City want to get rid of the evil and are in fear of its presence and so make every effort to get rid of the Vessel. Ellie wants to save the innocent boy from the local fearmongers, the Inquisitors and their attempts to destroy him. He may not be the Enemy, but he is very unusual! Ellie retains a friendship with fellow Orphan, Anna, who helps Ellie and Seth as they set out to set things right. But overshadowing shame that Ellie feels and the secret she carries may cause all of her friends to know great distress.
This is a fantasy novel with a dark and foreboding quality - the possession of an individual by an evil 'power' is quite sinister. The world of the sunken City is also very unusual and with ruins and strange remnant architecture as the foundation of existence the author has created a very different environment for the action of the fantasy story. There is action and supernatural unusual influences through the course of the story and it is a dark fantasy tale for young teen readers. I would not recommend this for too-young readers, even though the central characters seem to be young, because of the chilling nature of possession by an evil power. Teen readers may be able to recognise the hints of the power of fear, shame and guilt that are threaded through the unusual story. It is well written and compelling with a strong female lead character and will appeal to devotees of the dark and gothic genre because it has such an unreal and ethereal quality and will also appeal to enthusiasts of fantasy and dystopian fiction.
Recommended for readers aged 13+ (with care to avoid recommending to those who might be prone to nightmares!) Themes: Fantasy; Grief and loss; Supernatural; Fear; Shame and guilt.
Carolyn Hull

Feb 20 2020
Alice-Miranda at school by Jacqueline Harvey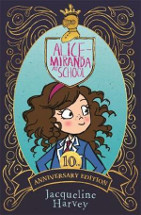 10th Anniversary Edition. Penguin Random House, 2020. ISBN: 9781760896034. hbk.
(Ages: 6-10). Recommended. Alice-Miranda Highton-Smith-Kennington-Jones has decided to go to boarding school and phoned to ask if she can start early at 7 and a quarter, much to the concern of her extremely wealthy parents. She strides into Winchesterfield-Downsfordvale Academy for Proper Young Ladies with all the confidence of an adult, knowing that her mother and grandmother had attended the same school before her. She sets about solving all the problems she encounters with the staff and students including taking on the fearsome Head Mistress, Miss Grimm, who has not been seen for many years by anyone but her secretary.
The character of Alice-Miranda was created by the author to illustrate that kindness and courage are the most important things to strive for and Alice-Miranda certainly has both of those attributes along with skills and an attitude you would normally expect in a much older person. To all the adults in the story she is quite confronting, but she certainly appeals to her young readers as this series has been extremely popular. This reprint of the first book in the long series that launched Alice-Miranda is the tenth Anniversary edition and includes a letter from the author outlining her gratitude to all who helped bring the character to life with her.
I liked this book, but I had some issues with Alice-Miranda being so perfect and so right all the time. Her parents allow her to solve most of the problems she encounters by paying enormous amounts of money for anything she asks for - such as a holiday for the school cook to America by private helicopter and landscaping services for the gardener to replace the flowers in the grounds. Perhaps this is part of the charm of the story, but it does not reflect real life for most of the general population.
It is not a difficult book to read and is written using lots of dialogue, making the story move quickly. It would be a great novel for younger readers who are reading at a higher level. Themes: Boarding school, Family relationships, Friendship.
Gabrielle Anderson
Feb 19 2020
The Conference of the Birds by Ransom Riggs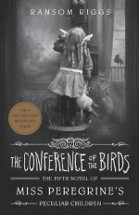 Miss Peregrine's Peculiar Children series book 5. Penguin, 2020. ISBN: 9780241320907. pbk., 228 pp.
(Age: Young Adult Readers) From the first page I was hooked. The action starts immediately and I felt like I was in one of those action films from the 80s in Chinatown hiding from a gang chasing me. Right from the start I was on adventure and thinking . . . what has happened? Why are the main characters running? This, I think is a brilliant way to start a book and to hook any Young Adult reader.
The Conference of the Birds is Ransom Riggs fifth instatement of Miss Peregrine's Peculiar Children. I have watched the first film but this is the first of Riggs' books that I've read. I did find the characters' peculiar and the monsters scary but hey that's what the series is all about.
Ransom has a great imagination and awesome story telling skills. His characters are so peculiar and the way he writes about them you think the person sitting next to you could be one of them. I'll be watching from now on if they have special powers.
I enjoyed reading about Jacob and discovering who Noor is and her background and what she stands for, for Peculiars. The friendship they formed was cool. I really felt for Noor living as an orphan and not knowing her past and learning more about it as the story went.
Young Adults would love reading this book because it's the children that run the story and not the adults. I love the way Ransom incorporates unusual antique photographs into his story telling. The photos are scattered throughout the book and helps the reader visualize characters as they are introduced. I am definitely going to use these photographs in future writing lessons with my students. I think getting a student to read Ransom's books and seeing how he uses the photos students will be writing in no time. I think the cover is awesome and like the antique feel of it. It makes this series special.
Miss Peregrine's Peculiar children series has a new fan in me and I'm ready to start the series from the start. Also hope more films are made from the series.
Maria Komninos
Feb 19 2020
The best kind of beautiful by Frances Whiting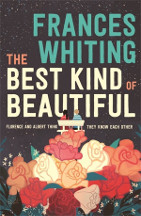 Macmillan, 2019. ISBN: 9781743535134. 336pp.
(Age: Adults - Adolescents) This is an intense, loving, evocative and powerful novel that draws us into a story of a family whose love for each other is palpable. An unusual family, their lives are dominated by the father, who runs the family as a much-beloved musical group. Their talent in playing instruments and singing to adoring audiences is something that brings them together and is at the centre of their lives for many years. In a tight-knit family that bursts with talent, we see their world in the spotlight, as much respected, indeed adored, for their singing, playing and the deep love that they share.
Yet, like all families, over time things happen that disturb the dynamics of this family's glorious career, and it is in her capacity to show how each character must find a way to deal with changes, and work to make these happen without loss of loyalty and musical prowess, that Whiting creates her beautiful narrative. The father is at the centre of their little universe, and it is under his loving and demanding care that they perform. When things change, each character has to find a way to cope, and this is the story of their adjustments, their changing lives and their individual pursuit of happiness.
This novel sparkles with the joy of music, singing, friendship and that special love of a family. Yet it is a narrative that focuses on the complexity of love, ambition, loyalty and the demands of family. It would be suitable for adolescent readers and adults alike.
Elizabeth Bondar
Feb 19 2020
Monster Nanny by Tuutikki Tolonen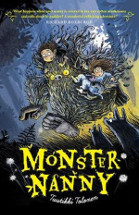 Allen and Unwin, 2020. ISBN: 9781760525590. pbk., 298 pp.
(Age: 7-11) Monster Nanny the title says it all. If you're a Roald Dahl fan you will enjoy reading Monster Nanny by Finnish author Tuutikki Tolonen. I found it was a refreshing change of pace from the majority of books out there and a nice return to timeless adventure. As soon as I saw the cover I thought of Where The Wild Things Are and yes the monsters did remind me of the book.
Halley, Koby and Mimi's mum has won a spa trip to Lapland and due to Invisible Voice (the dad) always being away for work and not being able to be there to watch the kids, a nanny has been promised to watch the kids. This nanny is no ordinary nanny but a huge, half human, hairy, dirty, dust covered monster. Mum has been convinced that the monster is ok and is part of a "secret special experiment . . . researching new options for child care work" so off she goes and the children are left in the care of Monster Nanny.
Monster Nanny is a delightful read that any middle school student will enjoy. The children in the story were easy to relate to and take us on an adventure to discover who the monster is and where it came from. Along the way we meet other monsters, a talking robe and little monster mosquitos.
This is one book I would add to my shelf in the classroom for all kids to enjoy. Before I forget, the black and white illustrations in the book were a great addition. Looking forward to reading more books from Tolonen.
Maria Komninos
Feb 19 2020
Scorch Dragons by Amie Kaufman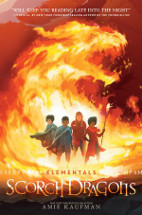 Elementals book 2. HarperCollins Children's Books, 2019. ISBN: 9781460755280. 448pp. pbk.
(Age: Middle Years 9+) Recommended. Dragons, wolves, adventure and magic. What else does a middle grade reader want in a book? Just imagine being able to transform into a dragon or a wolf, something any middle grader would love to do.
Scorched Dragons is, Amie Kaufman's second book from Elementals series. I can see why she is a New York Bestseller author.
Right from the start I knew it will be a book I could not put down. I loved the detailed map of the land of Vallen I was about to visit.
I have not read book one, Ice Wolves and I gathered that Scorched Dragons leads on from after the war that reunited Anders and Rayna who are twins that are totally opposites. Together with Lisabet they go on a hunt for a weather changing artefact called the Snowstone. They must find the Snowstone or the dragons will be in trouble.
I loved reading about the history of the conflict between dragons and the wolves and why each other hated the other. It was great to see wolves and dragons working together to save everyone and learning that the things they were taught over the years about each other were untrue. Anders and Rayna also discover who their parents are.
Scorched Dragons is a great fantasy book all about adventure, magic, transformation magic, friendships and friendships between enemies.
The characters were good and you could picture them transforming into dragons and wolves. They did stay in their human form most of the time which made it easier for me to relate to what was happening and finding the story more real.
I must say, Kess is my favourite character. Their lost cat that reappears during the story. Hehe can you tell I'm a cat person.
Maria Komninos
Feb 18 2020
Willy Wonka's everlasting book of fun by Roald Dahl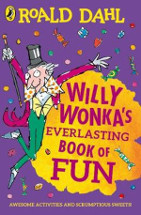 Penguin Random House, 2020. ISBN: 9780241428139.
(Ages: 7-12). Highly recommended. An activity book filled with games, activities, recipes and information all centred around the characters and story of Charlie and the chocolate factory by Roald Dahl. Willy Wonka introduces the book with a chapter about the chocolate factory and presents games and quizzes that tell you about the chocolate factory, different sweets to read about and make plus quiz questions to test your knowledge of the story.
The book then takes a chapter for each character - Charlie Bucket, Augustus Gloop, Violet Beauregarde, Veruca Salt and Mike Teavee. Ending the book is a chapter about the Oomp-Loompas and then lastly included at the end is a chapter of the original book which was never included in the published version. Scattered throughout the book are those fantastic, whimsical illustrations by Quentin Blake.
The activities in the chapters revolve around the things the characters encountered in the story and each chapter is about 15 pages long and is a mixture of recipes, word finds, quiz questions, drawing activities, experiments and games. The advertising for this book says there are over 365 activities in total, enough to keep a child busy for months, especially on rainy days. Classroom teachers using Charlie and the chocolate factory as a read aloud story could include the quiz questions and other activities in this book alongside the reading to really involve children in the Roald Dahl experience. Themes: Amusements, Puzzles, Roald Dahl characters.
Gabrielle Anderson
Feb 18 2020
Bone china by Laura Purcell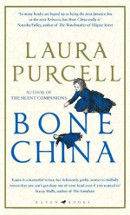 Bloomsbury, 2019. ISBN: 9781526602527. 384pp.
(Age: Adolescent - Adult) This story begins with Hester Why's enigmatic statement that 'love is fragile' and it is indeed clearly her past experiences, her fear and unsettled present that, we gather, are 'dragging her' to Cornwall in the midst of a chilling winter, to find work as an escape from her previous life. Doctor Pinecroft's large house, in which she is to live and work, is depicted as 'grey, wide and squat' standing with its 'rough-cast face' on the 'crest of the cliff'. This gripping tale tells of the harshness of life at that time, as we are drawn into the chill, and indeed the dread that Hester experiences daily, knowing that not only might she catch the disease, but also is aware that her employers would fire her if they were to discover her past and her secrets.
Doctor Pinecroft is described as a visionary, determined to find a way to treat the tuberculosis that has heavily affected his family, and indeed that has taken the lives of so many others, but is also in search of a cure. In his bold experiment, a group of prisoners from a local gaol in Cornwall are released into his care. He sets up a campsite, where he daily spends some time with them living in old caves by the sea. His wild plan is that the crippling cold and sea air will enable the men to beat the disease - a desperate hope.
Working for the doctor's family, Hester is one of the few women involved in supporting the men. As the story is told through her experiences, we learn about the lives of the servants of that era, and their ever-present fear of illness and poverty. Opium, alcohol and other drugs appear to be available, and we read of the problems that these and other drugs cause. Yet we are positioned to grasp the dread of the illness experienced by so many people during that time, and to understand the consequent despair that runs through the whole narrative. It is a wild story in its own way, lively, evocative and sadly indicative of the terrible living conditions for many people in that historical time and place.
This intriguing narrative, that gives us a vivid picture of the way people lived and of the understandable fears that troubled everyone at that time, is a comprehensive, well-written work that would be most suitable for both adult and adolescent reading.
Elizabeth Bondar
Feb 18 2020
Where's Peppa's magical unicorn?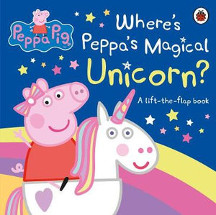 Penguin Random House, 2020. ISBN: 9780241412046. 10pp.
(Age: 1-4) Daddy Pig is helping Peppa look for her magical unicorn. It isn't in her toy cupboard, that's just Horsey Twinkle Toes. "Where else shall we look?" asks Daddy Pig. "A fairy-tale castle!" says Peppa. And so the search continues, across an array of settings including the beach and the bottom of the rainbow. But each time Peppa is disappointed; the tail poking out of a dragon bush is not a unicorn tail after all - it's a kite! And the glow at the end of the rainbow? It's a pot of gold, not Magical Unicorn. A disappointed Peppa heads home, but as soon they are safely inside the doorbell rings; it is Grandpa Pig . . . with Peppa's magical unicorn. She's been hiding out at Grandpa and Grandma Pig's house and Peppa is so glad to see her.
Young ones will love lifting the flaps as they join in Peppa's search for her special friend. The glittery front cover will catch their attention and the familiar and comforting world of Peppa Pig will hold their attention. This sturdily made board book will delight little Peppa fans and allows for self-exploration as well as shared reading. Themes: Board book, Lift-the-flap book, Peppa Pig.
Nicole Nelson
Feb 17 2020
The Good Hawk by Joseph Elliott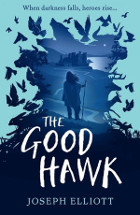 Walker Books, 2020. ISBN: 9781406385854. 368pp.
(Age: Upper primary - secondary) Highly recommended. The Good Hawk by Joseph Elliott has a solid central character in Agatha. It is a fantasy story where two friends are forced to leave their ravaged home and travel to distant, frightening places that are shrouded in dark history and mystery. The use of the Scottish-Gaelic and Old Norse language throughout adds to the ethereal, otherworldly atmosphere of this tale.
Agatha is a loyal and steadfast character who perseveres against all odds to defend and uphold her clan and her friends. We hear her pure and unaffected voice in the first person. She stutters but she expresses herself with the clarity of the innocent. She sees through people to their true core and she has a special and unique skill - communication with animals. Early on the reader hears that she is teased - told that she should have been thrown off a cliff as a babe. We read that she looks different. We understand that she has a disability, that she is not able to do some things and that people think they can't rely on her. But she has a steely pride - she is a Hawk. Jamie is her friend with his own fears and undiscovered strengths.
Their journey to rescue their clan takes supreme courage in the face of fearsome obstacles, the out-and-out brutality of evil foes and frightening mystical, wild, primeval forces.
There is consideration of the alternative perspectives of all manner of cultural and societal beliefs and practices as our two heroes encounter extraordinarily outlandish good and evil characters during their journey. Love remains demonstratively pure and powerful throughout.
This book is not for the faint hearted but it is redemptive. Elliott's depiction of a heroine with Down's syndrome is wonderful. I agree with Katya Balen, author of The Space We're In in her praise for Elliott's portrayal of Agatha. She is indeed . . . "the sort of hero children's literature has been lacking for too long."
The Good Hawk is a swashbuckling adventure set in a fantasy world somewhere up in the North Sea in the vicinity of the Isle of Skye, Scotland and Norway; The Space We're In is more domestic. Both books are powerful portrayals of lived disability. They will surprise and grip the reader. The gap that has existed for books about heroes with disabilities is at last being addressed and it is a very good thing.
I highly recommend both books to Upper Primary and Senior School students. Teacher's notes are available.
Wendy Jeffrey
Feb 14 2020
Under the Milky Way: traditions and celebrations beneath the stars by Frane Lessac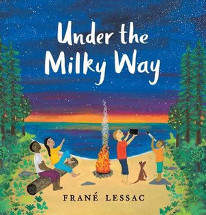 Candlewick Press, 2020. ISBN: 9781536200959. 31pp.
(Age: 5-10) Recommended. Lovers of festivals and Astronomy enthusiasts are in for a wonderful time as Lessac takes the reader around North America looking at different places and their traditions, all under the Milky Way. Beginning with the ever popular Halloween festival, readers will be enthralled by the detailed illustrations of what the festival looks like in Salem, Massachusetts, with pumpkins peering from all the houses, ghosts and spiders adorning the trees and children all dressed up in costumes. Then there is the information about the origins of the Halloween festival, and Salem. This formula of very colourful and detailed illustrations with captions about the tradition and the place visited is followed as readers find about ice skating in Maple Grove, Minnesota, dragon dancers in San Francisco, night time markets in Toronto, Canada, dog racing in Nome, Alaska, the Nations dancing in Seattle, Washington and so on. At the top of the page is information about the night time celebration in large print which will facilitate reading the book aloud, and the smaller captions of information could be used for discussion about the cities and the festivals.
Two pages of information about the Milky Way and star formations is given at the back of the book and finally readers are instructed to find Lessac's dog Banjo, which is featured on every page. This will immediately make the reader turn back to inspect the busy, brightly coloured pages with all their tiny figures to seek out the small brown dog.
A companion to Lessac's Under the Southern Cross, this book is ideal for libraries and classrooms where children will learn not only about festivals in North America but some of its geography and history as well. Themes; Astronomy, Festivals, Night and Day, Galaxies.
Pat Pledger
Feb 14 2020
Love from the Crayons by Drew Daywalt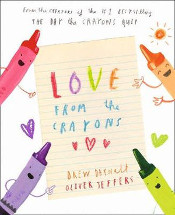 Illus. by Oliver Jeffers. HarperCollins, 2019. ISBN: 9780008384920. 32pp., hbk.
Love is yellow and orange.
Because love is sunny and warm.
Join the Crayons as they bring us another charming tale, this time about how love is many colours depending on how we are feeling and what we are doing at the time.
Explore how love can be shown in so many ways apart from saying those three words, and then take it further by investigating how we often assign colours to our emotions and how colours can affect and reflect our moods.
Something charming for Valentine's Day and Library Lovers' Day.
Barbara Braxton
Feb 14 2020
Imaginary friend by Stephen Chbosky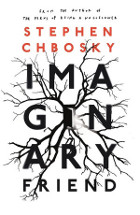 Orion Books, 2019. ISBN: 9781409184812. 704 pp.
(Age: Adult) Fans of horror stories and who have the constitution to read this massive volume of 704 pages will find a different story to Chbosky's famous The Perks of Being a Wallflower. After Kate leaves an abusive relationship she hides in the small community of Mill Grove, where she hopes she and her 7 year old son Christopher will be safe. Christopher makes friends with a boy named Special Ed. He and a group of boys spend a lot of time in the Mission Street Woods where they build a tree house, given instructions by a strange man that only Christopher can hear. Christopher appears to access a strange world through this treehouse and disappears for six days, reappearing with his learning disability gone. Then the town goes into meltdown.
There is a sense of menace hanging over the narrative that is quite frightening as Christopher gets headaches and a hissing lady whispers into people's ears. Fear is the overarching theme of the book and this pervasive fear may keep some readers reading to the conclusion, with its overtones of Christianity. Verdict: Horror fans will enjoy this, but other readers may find the repetition, strange spelling and length of the story a problem.
Pat Pledger
Feb 13 2020
Tunnel of bones by Victoria Schwab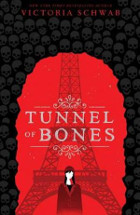 Cassidy Blake book 2. Scholastic, 2019. ISBN: 9781407196930. 272pp.
(Age: 11-14) Recommended. Cass and Jacob (her ghost best friend) have another exciting adventure in the wonderful city of Paris, where Cass's parents are filming their TV show The Inspecters. Cass's skills as a ghost hunter are still growing and in this fast paced story, she accidentally wakes up a very scary poltergeist in the catacombs that lie beneath the city. It is up to her to stop the ghost destroying things as it twirls around in a strange game of Hide and Seek.
The book opens with a map of Paris, showing all the world famous tourist destinations, which Cass and her parents visit, but it is the catacombs that will fascinate the reader as Cass becomes embroiled in the mystery of the little boy who begins to create havoc in the city. The realisation that there are tunnels of bones beneath the streets will intrigue while the story behind the young poltergeist will also tug at the heartstrings as Cass and Jacob gradually unravel what happened many years ago.
A Goodreads Choice Award Nominee for Middle Grade and Children's books (2019) this was a fun read and the setting of Paris was fabulous. This could be read as a stand-alone but fans of the ghost genre would really enjoy the first in the series City of ghosts (2018), and at 272 pages it is not too long and very easy to read. It is a book that will appeal to reluctant readers as well. Themes: Ghosts, Paris (France), Psychic ability, Friendship.
Pat Pledger
Feb 13 2020
The Creature Choir by David Walliams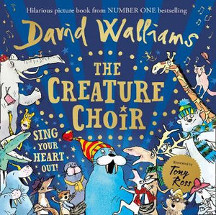 Illus. by Tony Ross. HarperCollins, 2019. ISBN: 9780008262198. 32pp., hbk.
Warble the walrus loved to sing and her dream was to one day take part in The Great Big Animal Talent Show. Sadly though, her warbling was somewhat less than melodic - in fact it was shocking - and eventually the other walruses banned her from ever singing again. While this made Warble very sad, she tried hard to stay silent but she just couldn't and burst into song. The consequences were disastrous - she caused an avalanche and everyone was buried in deep snow. So while Warble slept that night they all crept away leaving her alone. But she continued to warble and that attracted a lot of other creatures who also liked to sing but whose voices were also a little rough around the edges. Warble never said no to any of them and soon they had a choir, one that sang all around the world and was finally ready to enter The Great Big Animal Talent Show!
Being one of those with a voice like Warble who liked to sing but whose singing seemed to offend everyone (even strangers on a bus trip in the middle of nowhere at midnight!) this story really resonated with me. Being about being true to yourself and doing what you love just for the sheer joy of it, not because you believe you are the best (or even want to be) epitomises the feeling behind the mantra "Dance like nobody's watching!" This would be the most wonderful story to have the children imagine and make the noises the various creatures would, and create their own choir that sings and dances just for joy. There could be all sorts of ways to explore tone and rhythm and how they can combine to make something that is pleasing to the ear while just having fun!
Barbara Braxton
Feb 13 2020
Golden in death by J.D. Robb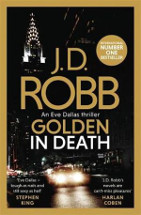 In death book 50. Piaktus, 2020. ISBN: 9780349422084. 387pp.
(Age; Adult) Recommended. Fans of J.D. Robb's In death series have been following the investigations of super cop Eve Dallas and her gorgeous husband Roarke since the first book, Naked in death, came out in 1995 and they have never been disappointed. Robb manages each time to detail a completely different case for Eve to investigate and Golden in death is no exception. This time a gift box containing a golden egg is received by much loved paediatrician Kent Abner and when he opens it is overcome by the fumes of a deadly toxin. Eve is quickly on the search for the killer but it is not until another victim dies the same way that it is clear that something must connect the two.
Like others in the series Golden in death was hard to put down. Dallas's investigation leads her well into the past to find a link that seems obscure at first, but delving deep into the characters and events of that time, brings up clues to who is the murderer. Fans will enjoy the timeliness of the fumes of a toxin killing someone and other current issues (no spoilers here!) also will appeal.
It was good to see the ever popular sidekick, Peabody, growing into her role as detective and coming up with pertinent and helpful suggestions, as she and Dallas interview suspects and research backgrounds. The police procedures were fascinating and the in-depth characterisations of the victims and the suspects very satisfying. Not to mention the ever present love story of Eve and Roarke.
I have to say that Golden in death is a favourite amongst the others that I have read recently.
Pat Pledger