Review blog
Click here for the ReadPlus Review Blog RSS feed. Copy the link location into your feed reader.
Jul 16 2018
From Twinkle with love by Sandhya Menon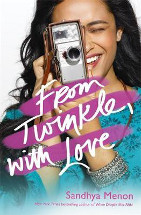 Hodder, 2018. ISBN 9781473678736
(Age 13+) Highly recommended. Twinkle, a 16 year old high school student, dreams of being a movie director. When she hears about an up and coming film festival, she is determined to make her mark on the industry and direct an amazing movie for everyone to see. When Sahil Roy asks her to be his partner for the festival, she eagerly accepts his offer, knowing it will bring her closer to Sahil's twin brother Neil, who she has a crush on. But little does she realise that Sahil has liked her since they were 11 and is hoping she will notice him instead. As Sahil and Twinkle start to work together, Twinkle realises they have more in common that she first thought and finds herself conflicted in her feelings for the wrong brother. What will she do, which brother will show her their true colours?
The book is written in the form of a diary, with each entry being a letter to one of Twinkle's favourite movie directors. This format was different to your average chapter book and easy to follow. The characters have an authentic feel to their personality, each one I found I could relate to in their feelings and the choices they were faced with as teenagers. The story touches on themes of friendship, conflict, loyalty and the trials we all encounter as we are growing up. Twinkle makes many choices in her attempt to define who she really is and learns a big lesson along the way.
"From Twinkle with love" is an inspiring and engaging read, full of humour, at times sadness and the emotional ups and downs of growing up. I highly recommend this read.
Mia Rice (Student)
Jul 16 2018
The Smoke Thieves by Sally Green
Penguin Books, 2018. ISBN 9780141375397
(Age: 12+) Recommended. A princess, a soldier, a hunter, a traitor, and a thief. Following the paths of Princess Catherine, Ambrose, March, Edyon, and Tash; these five people will soon come to find their futures are connected by a mysterious bottle of demon smoke. Who will unlock its secrets? These five young people are trying to survive as much as everyone else is but with their kingdoms at war, they are all facing their own demons. Unwanted marriages, revenge, crossroad decisions and literal demons, they will have to have all of these problems and more.
Sally Green has crafted a character-driven story with the themes of war, social classes, forbidden love, mystery and a dash of the fantasy. Her characters are fleshed out, and uniquely expressive and driven in their own ways, each so different from the other. With it being a lengthy story, the plot is somewhat slow but pulls the reader back in with its action, suspense and surprising plot twists. And with that, it kicked off a series of events that kept me clinging to the book wanting more. Green spares no detail in this encapturing story of kings and kingdoms, love and loss, and demon smoke. I would recommend this to young and young adult readers.
Kayla Raphael

Jul 16 2018
Let's visit the Olobobs by Leigh Hodgkinson and Steve Smith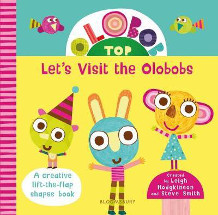 Bloomsbury, 2018. ISBN 9781408897621
(Age: 1-4) Board book, Lift-the-flaps, Shapes. Based on the English children's television show "Olobob Top", as seen on ABC, this early learning book about shape has been created by Leigh Hodgkinson ("Are You Sitting Comfortably?") and Steve Smith. There are four Olobob Top titles planned for release this year and another four in 2019: some sticker activity books and some board books. Olobob Top is about the adventures of three friends, Tib, Lalloo and Boble, who live in the biggest and best tree in Olobob Forest. Their world is made up of all sorts of shapes and in each television episode they build new characters who come to life. "Let's Visit the Olobobs" begins by introducing the Olobob characters and each page features a shape that the reader is asked to find within the accompanying picture (e.g., "Can you spot a triangle?"). There is more than one of the shape within each picture but the target shape can be identified because of its colour, pattern, or other specifics. The reader is spoken to directly ("Yes! It's Lalloo's dress. It's a very spotty dress Lalloo"), making it sound like the television narration on shows like Tellytubbies.
Young children will like pointing out all the other shapes they can see within the illustrations, with varying levels of entry depending on children's shape knowledge and vocabulary. Other concepts are also scattered throughout, including counting (numbers), size (long, big) and position (around). What is especially great about this is how there are shapes within shapes and sometimes the shapes are even obstructed or overlapping, requiring children to understand layering and position (e.g. the semi-circle of Gurdy's shell is partly hidden behind his head) in order to correctly locate the shapes. Bright colours and interesting smiley characters make this easy on the eye and will appeal to young ones even if they haven't seen the show.
Nicole Nelson
Jul 16 2018
Can I touch your hair? by Irene Latham and Charles Waters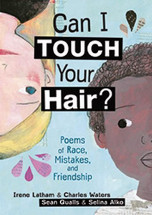 Carolrhoda Books, 2018. ISBN 9781512404425
(Age: 10+) "Can I touch your hair? Poems of race, mistakes and friendship" is described on the blurb as being 'a compelling portrait of two youngsters dancing delicately through a racial minefield' and is a reasonably accurate explanation.
The book uses a fictional setup of a black and a white student who have to work together on a poem project to explore the feelings of both students in a world filled with misunderstandings of race in America.
From an Australian point of view, lots of the subjects are irrelevant to our society but the message is still important. It shows that in America, even in our modern society, people with dark skin still feel in the minority and even at a young age children understand what racism is and see its effects. I think it also tries to show that these two young people, although different, experience the same things like friendship rifts, family issues and resolutions to their problems.
The book it formatted into 16 sections - with a poem from each child included and then a final joint poem to their teacher.
This book could be used to teach poetry, racism, but also kindness and friendship as the similarities become evident and the differences don't make as much difference to the two characters.
I quite like the illustrations with a mixture of paint, pencil and collage included. They are fairly colourful and add interest to the poems within that section.
The American based content is a bit off putting but could still be used for certain teaching areas.
Lauren Fountain
Jul 13 2018
The world's worst children 3 by David Walliams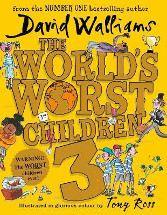 HarperCollins, 2018. ISBN 9780008304607
Highly recommended. Where do I start when telling you about David Walliams "The worlds worst children 3"?! What an awesome storyteller he is!
This book is full of 10 short stories about a variety of horrible children or sibling groups who really are, as the title suggests, the worlds worst! They are terrible, awful, mean, nasty, stinky, gross, absolutely HORRENDOUS children, and after reading this book I am thankful for my well behaved spawn.
My almost 8 year old son and I read this book, and laughed the whole way through. David Walliams has the most incredible way of writing these stories that are appealing to so many different stages of readers. My son is a reluctant reader and would much prefer to be read to - however this book got his attention and hooked him in! He wanted to read it on his own which is a huge tick for me. The shorter chapters (each their own horrible story about another despicable character) meant that he could read them himself, with little help from an adult and also capture his imagination and sense of humour to keep him going.
My almost 4 year old also enjoyed listening and added in her fair share of laughs or often an 'Eeeww" or "that's yuk Mummy!" followed by laughter!
In addition to this the wonderful illustrations by Tony Ross compliment the story and help to increase understanding of the story for the younger listeners. They also made us laugh out loud even more! His drawings are both gruesome and lively, funny and captivating. I don't think the story would be as good without them.
The stories include Tandy who tantrums so badly her parents eventually leave her and move to Australia (and can still sometimes hear her), Hank who played pranks on his poor family and eventually had one turn on him and go terribly wrong and of course the triplets who were the most disgusting children I have ever read about (but I will let you read that story for yourself!).
This is the first of "The world's worst children" series that we have read and I am going to go and find the first two as we loved them so much. Definitely 5 out of 5 stars!
Lauren Fountain
Jul 13 2018
The World of David Walliams Book of Stuff: Fun, facts and everything you NEVER wanted to know by David Walliams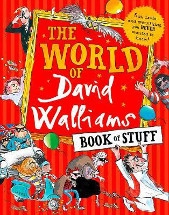 Ill. by Quentin Blake and Tony Ross. HarperCollins, 2018. ISBN 9780008293253
(Age: 7+) Highly recommended. Themes: Humour, Puzzles. Designed especially for children who can't get enough of David Walliams weird and hilarious humour and illustrated by two outstanding illustrators, "The world of David Walliams Book of stuff" will bring hours of fun and laughter into the lives of those who read it. Even people who aren't familiar with Walliam's books will be delighted with the fun in the book and are sure to want to pick up one of his stories or watch a film based on his books.
There are also puzzles to solve, like finding the 14 differences in the two pictures of Walliams' writing shed or designing a Walliams book cover. Readers will meet Raj in a new adventure and find out about the author's interest in swimming and his acting in "Billionaire Boy", "Ratburger" and "Grandma's great escape".
The illustrations by Blake and Ross enhance the book and will have readers laughing out loud as they read "Leonard Spud's guide to loo-modelling" or "Mummy's tooth care range" as well as many other very funny articles and cartoons.
This is a must for all Walliams' fans and is sure to keep the whole family chortling during the holidays with its funny jokes and slightly rude content.
Pat Pledger
Jul 13 2018
Peg + Cat : The lemonade problem by Jennifer Oxley and Billy Aronson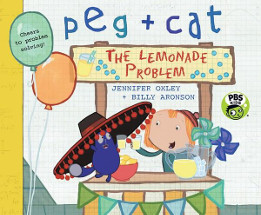 Candlewick Entertainment, 2018. ISBN 9781536200614
(Age: 3-6) Themes: Problem Solving, STEM, Mathematics, Cats. Lemonade stands outside one's house is harking back to a time when neighbours knew each other, when they supported their kids' endeavours and there were no worries about drinking from an offered cup.
Still, that aside, the idea that Peg and Cat set up a stall to try and sell drinks of lemonade to the local teens in exchange for marbles, is a step to teaching younger readers about problem solving, negotiation and maths. This picture book version taken from the very popular television series, will please younger readers. It is brightly illustrated, invitingly told, and features numbers and mathematical symbols throughout the text and pictures. Humour underlines the simple story of negotiating your way through a problem, while the illustrations cleverly support the text using laugh out loud situations that children will recognise.
This will appeal to younger readers wanting a simple introduction to the numbers from one to ten.
Fran Knight
Jul 12 2018
The way back from broken by Amber J. Keyser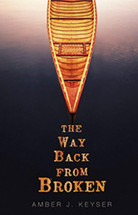 Carolrhoda Lab, 2018. ISBN 9781541514881
(Age: 14+) Recommended. Themes: Sibling death. Grief. Wilderness. Survival. Rakmen's baby sister died and the family is working through the tragedy in their own ways. He and his mother attend weekly meetings at Promise House, a support group where the mothers cry and the children do art therapy downstairs. His father won't go, like others he goes to the bar and bottles up the grief. Rakmen helps out with the other damaged kids, including some his age, Molly, who survived a car crash that killed her sister, D'Veray and D'Mareay, identical twins whose brother D'Shawn died of cancer. Their shared experiences help them to understand each other, unlike Rakmen's best friend Juan, who can't understand why he has lost interest in sport, girls and the excitement of finishing school. When his Biology teacher, Mrs Tatlas, turns up at the support group consumed with grief over her stillborn son, Rakmen's mother befriends her and he is thrust together with her young daughter Jacey. His own parents are going through troubled times and so when he is invited to spend the summer at a remote Canadian lake they ask him to go, not only to look after Jacey and her mum but to give them space to find a way forward. The lake is very remote and the family's cabin run down but it is very beautiful and Mrs Tatlas, Leah, decides on a canoe camping trip 'au large' in the wilderness. The trip is very challenging but they gradually find a rhythm to their days, paddling, carrying the canoe and setting up camp to collapse exhausted at the end of the day, an escape from the exhaustion of grief. When Leah breaks her ankle four days away from anywhere Rakmen and Jacey have to go for help. Loaded with responsibility Rakmen exceeds his own expectations and dramatically opts for survival and the living, moving on from blaming himself for his sister's loss.
This sensitive exploration of grief and healing acknowledges the complexity of the issue; the triggers, the depression and volatile behaviour, the self-blame, family breakdown and damage to relationships caused by the death of a child. The finely drawn description of the beautiful, scary and dangerous wilderness is a real strength, powerfully asserting that life is larger than grief, allowing the characters to discover resilience counteracting the hopelessness at the start of the book. Recommended for students looking for a serious read to engage the emotions or anyone dealing with, or wishing to understand, aspects of grieving.
Sue Speck
Jul 11 2018
Ariki and the giant shark by Nicola Davies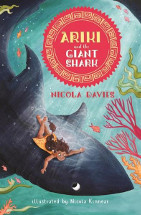 Walker Books, 2018. ISBN 9781406369793
(Age: 8+) Highly recommended. Ariki is a young island girl with a love for the sea. She has lived on her island her whole life but she is still seen as a stranger because she wasn't born there. Ariki was washed ashore as a toddler and has no knowledge of where she is from. Ariki is also very different to the other islanders due to her tattoos - they are dots and lines rather than lines and swirls. her tattoos are also on the opposite side to other girls. The island is suffering as the fish are not swimming which means no food. When the nihui (sharks) gather in abundance and as an even larger shark appears, the islanders believe they are under attack and must hunt and kill this monster shark. Ariki thinks differently. Her tattoos tingle when she is in the water with this creature. The cave etchings she discovers, thanks to the younger children, show this giant creature needs help from humans. Can Ariki, her friend Ipo, her guardian Arohaka and eight children help this creature while the rest of the island wants to destroy it?
"Ariki and the Giant Shark" is a beautiful island adventure and story about being yourself and believing in your gifts. Ariki is an excellent role model for young readers because she is strong, adventurous and independent despite being called names and not having a traditional family to care for her. The story is descriptive and easy to read, making it a great read aloud story for bedtime or even in the classroom. It is a story from another culture, connecting it to learning about Australia's neighbours in Geography. This book is highly recommended for independent readers aged 8+.
Kylie Kempster
Jul 11 2018
The Silver Hand by Terry Deary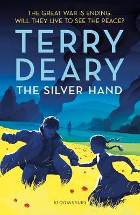 Bloomsbury, 2018. ISBN 9781472929488
(Age: 11 and up) Recommended. Written by the extremely successful Terry Deary of "Horrible Histories" fame, this book is sure to be as successful.
"It's 1918 and the Great War is entering its final phase. France is beginning to make small inroads against the Germans while the Germans are not only continuing to suffer huge loses at the hands of the French but the deadly Flu is also beginning to have a huge impact. In northern France, young Aimee has just found out that her mother is part of a spy network working with the British. After reluctantly befriending Marius, a German boy who has been left behind by his countrymen, she must try to help him get back behind German lines while evading a traitor - the man with a silver hand, she has helped to discover. " Publisher. Danger lurks at the turning of every page and I frequently found myself holding my breath.
Deary has done a fantastic job of allowing the reader to get to know the main characters and develop a close relationship with them. The familiar hardships faced by so many during war time are experienced and throw in the constant challenges of evading the silver handed man, a spine-tingling story is experienced. It sheds light on the fact that no one escaped from the war in France and this is quickly discovered as Aimee travels through woods and the countryside. I thoroughly enjoyed this historical fiction book and it is a must have for the library. I will certainly be recommending it to a number of students.
Kathryn Schumacher
Jul 11 2018
A stone for Sascha by Aaron Becker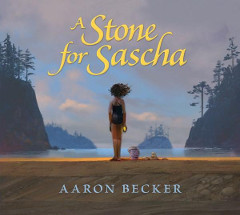 Candlewick Press, 2018, ISBN 9780763665968
(Age: 8+) Recommended. Themes: Grief, Pets, Journeys, Wordless stories. Aaron Becker's "A stone for Sascha" is a cinematic wordless picture book that begins with the loss of family pet, Sascha the dog. From the simple act of placing a golden stone on the grave, we are transported across the world, across millennia, into epic world events as we follow the stone's journey. Aaron Becker drew inspiration from his time in Granada, Spain observing the history of the buildings, where he observed churches built atop Roman ruins. The maps on the endpapers reference the stone's travels from Ethiopia 5000BCE then Babylon 600BCE, by sea and overland across continents, Asia to China then across the Pacific Ocean to the San Juan Islands. Becker's choice of dark, moody tones with bright touches of yellow and white are visually appealing.
Without words, the pictures are evocative, connecting the reader first with the little girl's grief, then with one toss of a stone into the vast ocean, back in time to a meteor shower and the golden stone's shattering landing. This turning point changes the story's direction from deep in the prehistoric ocean, to tectonic plates shifting, to the golden rock shard emerging in ancient Ethiopia. Through wars, religious ceremonies, travels by land and sea, pirate attacks this golden monument's purpose evolves and changes. After the Chinese sculptor carves the bridge's capstone into a golden box and stunning dragon the story continues edging closer and closer to the San Juan Islands and the little girl's hands. Becker's message of connectivity and the circle of life is beautifully portrayed.
"A stone for Sascha" is a picture book for older readers, one to be shared across the generations, opening up conversations about the passage of time, historic events and coping with grief. Becker's paintings are sweeping landscapes, then slices of history, close-ups and panoramic with an emotional depth shown through tone and light and shade. With Becker's cinematic background, this wordless picture book would translate beautifully into film.
Rhyllis Bignell
Jul 10 2018
We wear pants by Katie Abey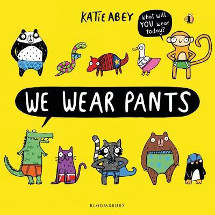 Bloomsbury, 2018. ISBN 9781408893609
(Age: 2-6) Recommended. Themes: Clothing. Humour. Katie Abey's We wear pants is an enjoyable and colourful picture book showing a broad range of animals wearing an interesting array of people clothes and shoes. Across a double-page spread we are first invited to view quirky animals wearing a range of pants: giraffe's neck is festooned with 'pant-tastic' undies, crocodile's looking snappy in his nappy, while blue monkey dances in his tartan pants! With speech bubbles filled with questions and comments, text placed up, down and around the quirky carton animals, this is humorous book to explore.
While Aussie kids will question the use of wellies, they'll soon see splashing elephants, a narwhal with a gum boot on its horn, even an octopus wearing eight wellies having a lot of fun. There is one character who chooses to remain an individual throughout, yellow monkey wears something different each time. Abey encourages the reader to find the biggest hat, the tiniest fish and check out the range of diverse hats for different seasons. Colourful coats are fun to wear on the bus, in the rain or sharing a bench with friends. The fun continues with animals wearing shoes, socks, scarves, t-shirts, glasses and pyjamas.
Abey's cartoon animal characters are engaging, follow the characters throughout and observe their antics, especially the cheeky monkey. Share with a young child, discussing the questions, the silly situations and crazy ways these animals wear human clothing. Finally check out their fashion styles when they all get dressed, there's a fire-fighter alligator, a giraffe in multi-coloured scarves and a prancing pony in jeans and a red shirt. We wear pants is entertaining, use Abey's style to create new pictures of animals dressed as humans.
Rhyllis Bignell
Jul 10 2018
The littlest things give the loveliest hugs by Mark Sperring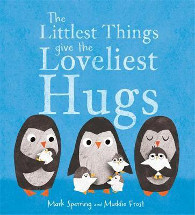 Orchard Books, 2018. ISBN 9781408338049
(Age: 2+) Highly recommended. The littlest things give the loveliest hugs is a beautifully illustrated picture book about hugs. Each page is bright and detailed, depicting different animals hugging and snuggling their children. From elephants to foxes to koalas, this book is ready to be part of a child's nightly bedtime routine. Even before reading the rhyming sentences, children and their carers will be busy discussing all of the details in each illustration. Children can discover where the different animals are found, make observations about animal families and learn about their appearance - great Science links.
The rhyming sentences are all about cuddles and snuggles and it reads like a poem. The rhyming couplets can help children identify rhyming words, supporting older children to create their own couplets. The content is aimed at younger children and is highly recommended for children aged 2+ and younger readers aged 5+.
Kylie Kempster
Jul 09 2018
The nothing to see here hotel by Steven Butler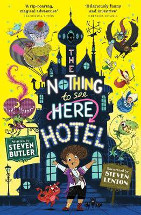 Ill. by Steven Lenton. Simon and Schuster, 2018. ISBN 9781471163838
(Age: 8-11) Recommended. Themes: Fantasy; Hotels: Magic. In a rollicking and amusing way, Steven Butler has created a fantasy holiday resort for magical creatures that can only be described as disgustingly spectacular. The resort is filled with magical and fantasy oddities, all hosted by Frankie Banister and his family (A family that has a befuddled, hybrid-ish troll heritage, with some human qualities too!) The normally smelly and idiosyncratic (and invisible to normal folk) hotel is turned upside-down (not literally) when a rather royal goblin decides to make a visit and creates instant chaos, leading to holes in walls, hand-to-hand fights, and piratical attacks. All in a day's work in the hotel industry for the fantasy world!
Written and illustrated in a very humourous style, the author even talks to his readers in digressions that poke fun at his own family and at the action that is taking place. It is no wonder that the book cover includes recommendations from "Tom Gates" author, Liz Pichon as it will appeal to readers of her books for its silliness. Certainly not "Harry Potter"-esque in the quality of the fantasy writing, but absolutely light-hearted and warm imaginary nonsense that will appeal to young readers.
Recommended for readers aged 8-11
Carolyn Hull
Jul 09 2018
Hello horse by Vivian French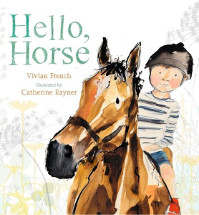 Ill. by Catherine Rayner. Walker Books, 2018 ISBN 9781406349948
(Age: 4+) Highly recommended. Themes: Horses, Overcoming fear, Confidence. Through an afternoon spent with Shannon the horse owned by the illustrator of this lovely story, a child learns to overcome her fear of horses, and learns to ride.
With little steps, Catherine introduces the child to her horse, Shannon, a horse she has owned for twenty years. The child is given a carrot to feed the horse, reminded to place it flat on her hand so the horse can tell what is carrot and what is fingers. She is then allowed to lead the horse around the paddock, brush and groom her, and finally to ride her. Each little step brings the child closer to becoming a friend of the horse, riding her and feeling confident with the large animal.
French's words tell us of the afternoon with the horse, telling the reader of why things are done, giving background to the way the horse is treated, and instructing the reader in the ways of a horse. So on the pages where the horse is groomed, for example the reader will not only see what is being done, and read in the story of the child and Catherine doing this to the horse, but there is information at the bottom of the page in a different font which tells the reader the facts of the undertaking and h why it is done. These facts are on most pages and an index at the end of the story allows the reader to quickly find the page again.
This beautifully presented picture book with illustrations that will make every reader want to go out and pat the nearest horse, has a double page at the end which contains the index, a short piece of factual information about the horse and its owner, and a reference to more information along with small illustrations about the brushes used for grooming.
Readers will love picking up this book, seeing the child take little steps to overcoming her fear of the horse, and in this way the reader may equate the role of little steps in overcoming others worries they may have.
Fran Knight
Jul 06 2018
Herstory: 50 women and girls who shook up the world by Katherine Halligan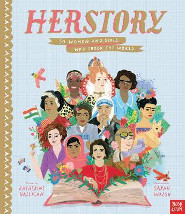 Ill. by Sarah Walsh. Nosy Crow, 2018. ISBN 9781788001380
(Age: 8-13) Highly recommended. Themes: Women - Biography. 50 wonderful women feature in this fascinating and gripping book, women who been leaders, creators, healers, problem solvers and ones who have inspired and given hope to many. Each of the women is featured in an illustrated double page spread, which gives a brief outline of their early life, the challenges that they faced and what they achieved. The illustrations include photos, quotes and documents as well as colourful drawings by Sarah Walsh. The table of contents includes an Introduction, and then lists women under the following headings: Believe and lead, Imagine and Create, Help and Heal, Think and Solve, Hope and Overcome. There is a wide range of women included from ancient times (Hatshepsut, Boudicca) to modern times (Theresa Kachindamoto, Rogoberta Mechcu, Cathy Freeman and Malala Yousafzai), and from many countries and backgrounds.
I was especially interested in reading about women whose names were unfamiliar to me: Theresa Kachindamoto, Malawi chief and children's rights activist, Elizabeth Blackwell, first Anglo-American female doctor, Rosalind Franklin, chemist who discovered the structure of DNA and Katherine Johnson, pioneering NASA mathematician and physicist. Even reading about those who were familiar to me gave extra information, like Ada Lovelace's background and education.
Children will be inspired by these biographies, and reading about the women's challenges and resilience will give them faith that they too can overcome difficulties with hard work and self-belief.
This would make a welcome addition to the library or classroom.
Pat Pledger
Jul 06 2018
To kill a kingdom by Alexandra Christo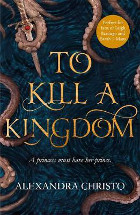 Hot Key Books, 2018. ISBN 9781471407390
(Age: 12+) Recommended. Told in the first person present tense, "To Kill a Kingdom" follows Lira, a siren princess who is only a few hearts off ruling the entire ocean, as she rebels against her mother's reign of cruelty. Having been encouraged most of her life that human traits were a sign of cowardice, Lira's mistake of protecting her cousin almost costs Lira her life. Instead she is forever changed and forced to embrace her 'disgusting' humanity - her only opportunity for redemption being to return with the heart of Prince Elian, the notorious siren hunter and heir to the golden kingdom of Midas. But is embracing her humanity such a bad thing for Lira? Particularly when the prince is devastatingly handsome and enchanted with her human looks. And what is Prince Elian planning now that he's sailing with only half his crew? Is there another way for Lira to return to her siren self?
Christo weaves a story which runs in parallel to "The Little Mermaid", using many familiar plot points interspersed with the murderous nature of sirens. "To Kill a Kingdom" is, as the cover betrays, in the same vein as works by Sarah J. Maas and Leigh Bardugo. It deals with coming of age issues, political games, and the importance of compassion, loyalty, and kindness. While Lira's mother is painted as an evil sea witch, the novel could also be taken as a lesson in dealing with bullying and the pressures of someone determined to inform the way you think. I would recommend to girls aged twelve and up who like fantasy and fairy-tale retellings.
Kayla Gaskell

Jul 05 2018
Leah on the offbeat by Becky Albertalli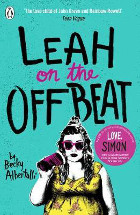 Penguin, 2018. ISBN 9780241331057
(Age: 14 +) Recommended. Themes: School friendships. LGBT. Sequel to Simon vs. the Homo Sapiens Agenda. The story is set around Leah and her friendship group in the last year of high school. Leah loves her drawing, music and drumming but the tensions of finding her way and conscious of being bisexual is constantly on her mind. She is not sure about the attraction she feels to a girlfriend in her group, especially when this girl has a boyfriend.
Leah's life as an only child to a single Mum is so different to the privileged lives of her friends. This has no effect on her tight friendship group throughout high school, even though she sometimes feels it. Simon, her best friend, is openly gay and is in a relationship within her group. A disagreement about racism with one friend leads to fights and disharmony. The realisation of senior year friendships coming to an end as they will be going their separate ways after Prom adds to her confusion. Leah stuggles with her feelings and emotions and the reader can sympathise and gain an understanding of the issues she is facing with her sexuality.
This is an American teenage novel but we can find similarities with the School Prom and our year 12 formal.
I enjoyed the pace of this book and it was engaging. It gave me a clear insight into the issues and emotions of teenage sexuality. It will certainly be picked up by the readers who enjoyed the first book which has been made into a movie "Love, Simon". Rating: 8/10
Debra Pepper
Jul 05 2018
Roald Dahl's 123 illustrated by Quentin Blake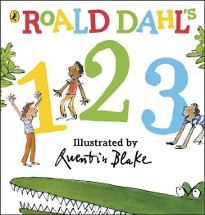 Penguin Random House, 2018. ISBN 9780241330364
(Age: 1-5) Quentin Blake brings his unique illustrations to this early counting book. He even borrows from his previous work, with his distinctive enormous crocodile featuring on each page. The word 'chiddler' (meaning child) as coined by Roald Dahl in The BFG is also used. The board book counts chiddlers from one to five ('1 little chiddler going for a walk. 2 little chiddlers waiting for their friend'). Each page also asks the reader to spot the enormous crocodile that is badly hidden within the illustration ('Can you spot 1 enormous crocodile hiding in the grass?'). The illustrations are funny in parts: when the crocodile pretends to be a carousel animal or a coconut tree for example. The numerals are large and bold to help with number recognition and the pages are not too busy. This will enable readers to easily count the children (or chiddlers) on each page. The ending is clever as it is implied that the crocodile eats the children but the last page lifts out for a double spread to show the children all fleeing from the enormous crocodile who just missed them with his snapping jaws. This is a simple but fun counting book and a nice introduction to the illustrative genius of Quentin Blake.
Nicole Smith-Forrest
Jul 05 2018
Roald Dahl's opposites ill. by Quentin Blake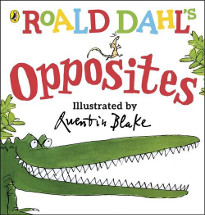 Penguin Random House, 2018. ISBN 9780241330555
(Ages: 1-5) Board book. Opposites. Lift-the-flaps. Each double page spread of this concept board book features one set of opposites (big, little; empty, full; tall, short; right way up, upside down; day time, night time; etc.) The words are accompanied by illustrated and often humourous examples (e.g., the enormous crocodile with his jaws wide open and then with them closed upon the feathers of a shocked bird). There are interactive flaps on some pages but not all.
The distinctive Quentin Blake illustrations (with his signature enormous crocodile featured on several of the pages) are delightful as always, with many familiar characters from his popular works (elephant, pelican, giraffe).
This is a light-hearted introduction to opposites for young children, not unique in its field but pleasant due to its simplicity and wit.
Nicole Smith-Forrest