Review blog
Click here for the ReadPlus Review Blog RSS feed. Copy the link location into your feed reader.
Jul 21 2017
The stars are fire by Anita Shreve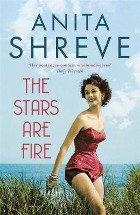 Little Brown, 2017. ISBN 9781408702994
(Age: 16+) Set in Maine, US, in 1947, the story begins with endless rain but with a season change everything turns to summer drought - the parched land and hot wind have people on tenderhooks anxious about the threat of fire. Claire is a young mother of two, trying to work out why the tenderness has gone from her marriage. When the inevitable fires break out, her husband is among the men who leave the town to fight the flames. Whilst he is gone, the fires turn and head towards her home. She and her friend Rosie have to make quick decisions in the crisis. It only Claire's clear thinking that saves their lives and their children, but there is a terrible cost. Her home destroyed, and her husband missing, Claire has to work out how to make a new life for herself and her children. Though there were problems in her marriage, the children miss their father, and Claire is torn between wishing for his safe return and the possibility of a different life where she is in control, can go to work, and find new independence and happiness. For a while it looks like it might be within her grasp. But then everything changes . . .
The characters in the novel have to fend against the challenges of extreme weather - first the rain, then the fires, later cold and snow confine them to one room trying to keep warm. The struggles with the environment mirror the struggles within - the challenge of relationships that turn harsh and unforgiving. A situation that should invoke love and compassion becomes instead a source of torment and misery. It seems like moments of happiness are transient as life continually offers yet another battle.
There is romance in this story but also very real issues of domestic violence, child protection, and finding inner strength. So while the writing style is easy to read and the story soon draws you in, the themes are suited to a more mature reader.
Helen Eddy
Jul 19 2017
Falling by Anne Provoost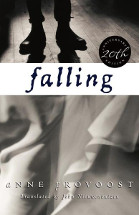 20th Anniversary edition. Allen and Unwin, 2017. ISBN 9781760293925
(Age: 15+) Recommended. Depicting racial tensions between migrants and established citizens of an unspecified region in France or Belgium, the prescience of the author is underlined in this 20th Century anniversary edition by the current refugee crisis in Europe.
Lucas is a metropolitan teenage boy who reluctantly accompanies his mother on a trip to a provincial town in order to deal with his late Grandfather's house and property. The weather is oppressively hot and Lucas is truculent and unenthusiastic until he discovers a chainsaw, reunites with Caitlin (a girl he used to play with as a child) and meets some locals Benoit and Alex.
The story starts slowly and dark details of Lucas' Grandfather's past are gradually revealed. Lucas is an object of pity and slight ridicule as he is the only one who doesn't have knowledge of these events from the past and it causes him angst and embarrassment as he deals with geographic and social displacement. Lucas' mother remains silent due to her own discomfort and bears some responsibility for later events because she fails to prepare and guide her son through this difficult matter.
The title is apt on different levels. Lucas falls in love, he falls in with the wrong crowd and falls into a great deal of trouble. The reader feels a sense of anguish and frustration when he makes such poor decisions which affect himself and others in profound ways but this is because what is portrayed is entirely realistic. This is a cautionary tale about the power of charismatic and unscrupulous individuals and their capacity to manipulate people who have vulnerabilities or who lack the worldly wisdom which would normally help them to protect themselves. The events and terrible consequences resulting from poor judgement are not limited to the circumstances depicted in the novel. Crimes of violence and drug involvement as well as deaths from misuse of motor vehicles are examples where individuals sometimes surrender their own values and better judgement in order to go along with others who somehow disable a person's capacity for self-responsibility. This is a powerful story with great relevance and is a worthy read in its own right, however the prominent message concerning who young people should trust and rely upon will not be lost upon adolescent readers and I recommend it.
Rob Welsh
Jul 19 2017
Dogs and doctors by Elen Caldecott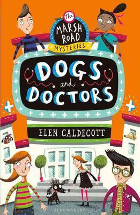 The Marsh Road Mysteries.Bloomsbury, 2017. ISBN 9781408876060
(Age: 9+) Highly recommended. In Dogs and Doctors readers meet a group of children who are rather good at solving mysteries. Sylvie has to stay in hospital and on her first night Barry, the therapeutic dog, is kidnapped. The group of friends are on the job the very next day. They interview people, steal CCTV images and lead the security guards to the laundry. Barry has been here but a chase through the parking lot enables the escape of the dog napper. Meanwhile, a piece of valuable art work, on loan to the hospital, has gone missing. Are the two crimes connected? Was Barry a decoy dog? Is Barry safe? Will the friends beat the police and solve the crimes? The group of friends undertake some rule breaking to get to the truth but they do contact their police connection when danger is imminent.
Dogs and Doctors is part of The Marsh Road Mysteries series but it is a stand-alone story. It is great to see loyalty amongst friends as well as accepting friends for all their faults. The story is an excellent read for girls and boys, especially if they love an adventure where they can't pick the culprits. Dogs and Doctors is descriptive and exciting. The text is easy to read and would make a great model for students creating their own mysteries when writing. It is highly recommended for readers aged 9+.
Kylie Kempster
Jul 19 2017
Superstar Tapir by Polly Faber and Clara Vulliamy
Mango and Bambang, book 4. Walker Books, 2016. ISBN 9781406361490
(Age: 7-10) Highly recommended. Superstar Tapir is the fourth book in this delightful series starring Mango and the tapir Bambang. It is divided into four separate stories, each quite unique and interesting.
In Snow day, Bambang is intrigued about the idea of snow and wonders just what it, is, and even though there is no snow around, Mango comes up with lots of different ideas about what snow looks like and feels like. Their adventures culminate in a ride in George's wagon, pretending to be a snow sled and when they stand under a blossom tree they pretend that it is now and they and make a snow angel out of the blossoms.
A night at the fair sees Mango's father finally leaving his study to take them off to the fair. After he wins them toys at the hoopla stall, Mango and Bambang go to see the Egyptian treasures where they are accosted by their old enemy Cynthia Prickle-Posset. What adventures!
Their friend, Rocket the dog faces some trials in Rocket to the moon, when he is convinced that he has found a space ship to take him away. Mango and Bambang have to use all their ingenuity to find him when he disappears.
In A tiny tapir's tears, Guntur the tiny tapir reappears as a star in Minty Verbena's latest movie. Mango and Bambang are invited to the opening and here they have to rescue him when he begins to fall from a collapsing chandelier.
All the stories are a pleasure to read and the black and orange illustrations add to the interest and humour.
Pat Pledger
Jul 19 2017
Everything, everything by Nicola Yoon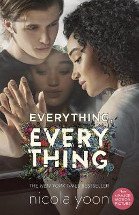 Ill. by David Yoon. Random House Children's Books, 2017. ISBN 9780552576482
(Age: 13+) Themes of romance, family relationships, illness. This is Nicola Yoon's debut novel; a touching romance between two young people wanting to experience love but it could be the death of one of them.
Bubble girl, Madeline Whittier is allergic to the outside world. She has not left the house since her father and brother died in an accident when Maddy was a child and now, at 17 years old, she yearns for a relationship that is different to those she has with her mother, her nurse and her tutor. This desire is a closeness that may only be achieved with Olly, the boy moving in next door, the boy with eyes the colour of the Atlantic Ocean.
Madeline's story unfolds with drawings, diary entries, lists, charts, and personal narratives. The illustrations, which were drawn by Nicola Yoon's husband, David, added an unusual and personal touch to the telling of Madeline's story. I particularly enjoyed Madeline's Spiral on page 233; it is an illustrative elegy to Madeline's dreams. And on pages 237-8 we come to a halt along with Maddy's heart with black pages and few words. This type of visual emphasis on emotion turns a book into a more physical reading experience which students will enjoy examining.
I did find that the story had two drawbacks. Although the characters and relationships were being developed expertly before my eyes, the most important character to the plot, Madeline's mother, was sadly a missing substance. I know that Madeline was loved by her mother but the way Nicola Yoon continuously described the same mother daughter activities and Madeleine's love and desire to save her mother any more pain was tedious to read about. The second drawback was Maddy's calm resignation to her life. If a teen was actually in this predicament would there be more teen angst, more tension, than portrayed by the fictional character of Madeline? This could be a position for debate amongst students.
For a debut novel it is very exciting that Everything, Everything is being turned into a movie and I hope it can do Nicola Yoon's work justice.
Sharon Smith

Jul 19 2017
The whole thing together by Ann Brashares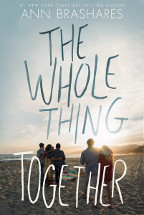 Penguin Random House, 2017. ISBN 9780141386300
(Age:12+) Recommended. The novel The whole thing together, written by Ann Brashares describes the realisation that people saving and caring for something or someone can be brought together by a sudden disaster. The whole thing together makes you rethink your family and friends because the author uses a family reunion to bring the story to life. A messy divorce years before, resulted in shared custody of Ray and Sasha's siblings. As the youngest of their respective families and unrelated, both Ray and Sasha find themselves sharing their half-siblings and holiday home bedroom - but not each other. A chance meeting sparks romance and you can imagine the result when all members of the extended families are finally brought together in the one place.
This story, set in New York, is easy to relate to, although for me it was hard to connect with the characters. This is because the author switches the perspective of the characters before the reader can connect with them.
Overall the novel was simple but enjoyable and those who read it will find comfort doing so. I recommend this book mainly to those who are looking for an easy read with a little twist - a wonderful, open and loving story targeting readers between 12-18 years of age.
Cara F. (Student)
Jul 19 2017
The naughty naughty baddies by Mark Sperring and David Tazzyman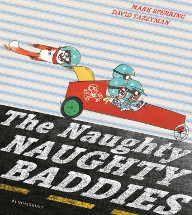 Bloomsbury Publishing, 2017. ISBN 9781408849736
(Ages: 2 - 6) Highly recommended. Picture Book. A highly improbable and amusing tale whereby 4 baddies hatch a 'dastardly' plot to steal the spots of the Queen's little dog amongst other minor naughtiness like the sticking out of tongues and the blowing of raspberries. What greater fun is there to be had than to see oneself as a 'baddy' creeping around with your friends in a quest to make as much mischief as possible? And to put oneself in a position of power over someone as powerful as the Queen herself is definitely irresistible to the average 4 or 5 year old!
There are a number of powerful words used in the text that would bear discussion with the young reader, 'dastardly' and 'fiendish' being great additions to anyone's vocab. Delightful, 'diabolically dreadful' and 'dastardly' alliteration is used throughout, and that wonderful repetition of the 'naughty, naughty baddies' is sure draw in the young reader when read aloud.
Creeping is at the forefront of the baddies' skills with 'sneaking' coming in at close second. My three year old granddaughter is quite convinced that her creeping skills are vastly superior to any adult's ability to spot her little body wending its way slowly along the lounge room curtains. If you creep well enough you can get away with anything and steal the spots off the Queen's doggy, indeed the 4 baddies do. What happens as a result of this improbable crime needs to read to be believed.
The ending was a little up in the air for me - not a particularly satisfactory resolution with the tables turned on our most powerful leaders. It may leave the little reader wondering exactly what happened.
Elizabeth Avery
Jul 19 2017
Nanette's baguette by Mo Willems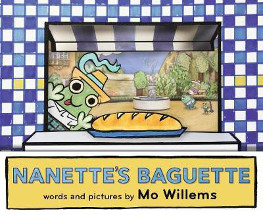 Walker Books, 2016. ISBN 9781406376210
(Age: 2 - 6) Recommended. Picture Book. It's all in the rhyme! Just exactly how many words can one get to rhyme with baguette?? You will quickly find out on reading Mo Willems' latest picture book.
Cleverly illustrated with photographs of his own purpose made paper and cardboard constructions, Nanette, the little French frog is sent to the bakery by her mother on a quest for a baguette; indeed, to 'get the baguette'. She can't resist the wonderful smell, however, and wonders how on earth she will give her mother the bad news on arriving home. The delightful ending will put a smile on the dial of every small reader; just no one can resist the smell of warm baguette.
This is definitely a book to be read aloud, the whole fun of it being in the rhyme. Whilst the plot is one all young children will relate to, it isn't particularly deep and meaningful; just crazy fun. My three year old granddaughter likes a little more of a plot than this book developed but nevertheless enjoyed thinking about how many words could be rhymed with baguette very much warmed to the thought of eating one.
Elizabeth Avery
Jul 17 2017
The city bleeds gold by Lucy Saxon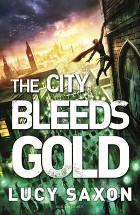 Tellus series book 3. Bloomsbury, 2017. ISBN 9781408847732
(Age: 11+) Recommended. An initial impression was one of disappointment, starting with the all too convenient map of the Tellus archipelago. Learning that the protagonist Noah has an alter ego, Daniel, who is pretty much the Spider-Man of this fantasy realm, didn't help matters - but to be fair, this is Volume 3 and the world of Tellus has already been well described in Volumes 1 and 2: Take Back the Skies and The Almost King.
The City Bleeds Gold gains momentum with Daniel's nocturnal forays into the lower city to protect his fiance, Princess Crysta. Crysta is the future Queen of Erova, the largest territory of Tellus. In her parents' absence, it is her job to organize the annual festival to ensure the favour of the Goddess and the sustainability of the kingdom. Noah, a commoner and mask-maker like his father, is not exactly the most popular choice of future consort according to just about everyone but Crysta. With both Damian, head of security, and the younger princess Rosa, in tow, they focus on protecting Crysta and the supremacy of Erova from an assortment of threats. Daniel (Noah in disguise) has both the ability and the motivation to be spying on potential enemies but is unacknowledged due to his secret identity.
A measure of romance means that the main characters are developed well. A young author of 21, Saxon expertly builds suspense as Daniel uses the roof tops to spy on and stymie the bad guys. When Daniel's intelligence gathering finally plays out, the novel becomes a heady page-turner in the milieu of the high fantasy and appropriately named, Tellus series.
Deborah Robins
Jul 17 2017
Wimmera by Mark Brandi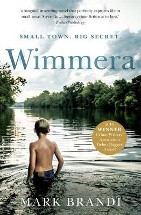 Hachette, 2017. ISBN 9780733638459
(Age: 16+) Recommended. The prologue to this story starts the mystery off - two young boys, after idling away time yabbying unsuccessfully in a country dam, explore into the bush further, and make an intriguing discovery. The story then moves to some years earlier and it is a different set of boys passing their summer holidays together - Ben and Fab are good mates, they enjoy each other's company, and the banter between them is easy and natural. But Fab doesn't have an easy life, he is picked on by the bullies at school taunting him for being a wog, and at home things are even worse when his father loses his temper and starts beating him up. Ben tries to protect Fab, standing beside him when he needs help in the schoolyard and even trying to take the blame for a cricket accident to deflect the wrath from Fab's father. The friendship and trust between them is real, the conversations are natural, and they fit easily together.
It sounds like one of many engaging stories of adolescent boys growing up in the Australian country. However this story goes to a darker place very quickly. There is a shocking young suicide next door, a sign that all is not as it seems. And when the grieving family moves out of that house, the new resident with the smart car becomes an object of curiosity for the boys - who is he? Is he a secret agent? The new neighbour, Ronnie, a tall muscular man, seems to take an interest in Ben, offering him the opportunity to make some money with odd jobs. He is friendly, he offers to help Ben, shares secrets with him, and builds up a gradual intimacy. But it is not the friendship of mates like Fab, it feels strange and Ben doesn't know how to handle it.
The way that Ronnie charms Ben's parents and gains their trust, and the description of the gradual grooming of Ben, provide insight into how a paedophile might work, revealing the very real quandary that a young unsuspecting teenager might find themselves in. What can Ben do about it, what will happen next? Can Fab help?
This book carried me along very quickly and I read it in almost one sitting captured by the tension of wanting to know how the boys handle the menace and what happens next. It is a dark story, but there are no ugly graphic details, the danger is merely suggested. We don't have to know the details to solve the mystery. The denouement makes sense; the descriptions of the relationships have an authenticity that makes one feel that if it is not a true story, it is coloured by real events, and is worth reading to gain an insight to how such things might happen. It left me pondering things afterwards - questions such as what makes a friendship, what is the dividing line between genuine closeness and closeness that is manipulative and exploitative? How do you know when to trust and when not to? Maybe it is just luck, and we could all use Fab's lucky rabbit's foot.
This won the 2016 UK Crime Writers' Association Debut Dagger.
Helen Eddy

Editor's note: This is also available as an audiobook through Audible and iTunes.

Jul 14 2017
The Blizzard Challenge by Bear Grylls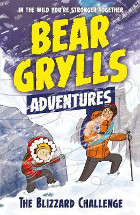 Bear Grylls Adventures. Bear Grylls, Bonnier Publishing Company, 2017. ISBN 9781786960122
(Age: 7-11) Bear Grylls is a well known adventurer and survival expert. He's had several TV programs and has written books for both adults and children. His Mission Survival books were targeted to older primary school students but this series Bear Grylls Adventures will appeal and be accessible to a younger reader.
The theme in The Blizzard Challenge is survival and being the best person you can. Physical struggle and adversity against nature teach lessons about both persistence and self belief. The first message on Bear's website is 'Life is an adventure. Live it'. This is something that Olly learns in this first book.
Olly is reluctantly on a camping trip and he lets down his friends during the activities. He doesn't want to put up the tent, build a den or be part of the team. While wandering in the woods he is given a compass by another child whom mysteriously comments, 'I think you need this'. This compass has a strange fifth direction which takes Olly straight to Bear Grylls on a high mountain range. Bear teaches Olly how to survive in sub zero temperatures and hazardous situations such as walking on a cracking frozen lake and enduring a blizzard.
Olly returns from his adventure having learnt important lessons about the environment and himself. He passes the compass onto the next adventurer who features in Desert Challenge book 2 of this series. There are 4 books available in this 12 book series.
Emma McCann is the illustrator and her drawings feature throughout the book. Colour is used only on the cover.
Bear Grylls appeals to children and this series will interest to 7 to 11 year olds.
Jane Moore
Jul 14 2017
Hamish and the gravity burp by Danny Wallace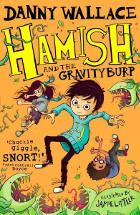 Simon and Schuster, 2017. ISBN 9781471147128
(Age: 7+) The bright cover and illustrations covering the paper edges promises humour and fun, and they certainly deliver this for young children!
The story surrounds Hamish Ellerby, who begins by finding his family stuck to the roof through the strange happenings that is a 'gravity burp'. The whole town of Starkley is affected and obviously causes lots of questions and a then big town meeting.
It becomes up to Hamish and his friends (who are all in a gang called the PDF - Pause Defence Force) to save their town once again.
After some research I found that this book is part of a well established series, where Hamish and the PDF try to save Starkely (and the world) from Alien invasion. This made sense as although Danny Wallace gives information to the reader to allow this to be an interesting stand alone book, I feel that reading this series in order would be very beneficial to getting to know the long list of characters.
The story is consistently funny, with toilet/gross humour throughout keeping even the most reluctant reader or listener entertained.
My favourite character of the bunch was Madame Cous Cous (who couldn't love that name!) and her sweet shop. She is always doing something amusing like nailing down all the sweets in the shop, and through the wonderful illustrations I was able to form a great visual image to compliment the story.
This book would suit readers who love Roald Dahl and David Walliams, as it is clever, humorous and filled with little tidbits (like the flick-a-book illustrations!!) to delight every reader.
Suitable for readers or listeners from 7+
Lauren Fountain

Jul 14 2017
Zombie goes to camp by Zack Zombie
Diary of a Minecraft zombie book 6. Koala Books, 2017. ISBN 9781743818329
(Age: 5+) Zombie goes to camp tells the follow-on tale of Zack Zombie and his friends going to camp. Zack is 12 years old and completely terrified of going to Creepaway Camp; luckily his friend Creepy is coming along too!
Like the previous books, Book 6 is written in a daily diary style and uses language that children as young as 5 (and anyone who loves Minecraft) will understand.
The story moves through Zack's time at camp, with the first part of camp being filled with his concern that the camp counsellors are really brain eating humans who especially enjoy mob kids and that the food served in the cafeteria would spring to life as the camp food monster and eat them!
The kids at camp also participate in lots of stereotypical summer camp activities that many children will be able to find a link with and gain an understanding of the situations (except the potential brain eating counsellors) Zack and his friends are in.
Thankfully Zack and his friends survive the terror that is Creepaway Camp and come through both alive and with a whole heap of new friends.
The ending leads the reader nicely onto the next book and the next adventure for Zack Zombie, keeping them interested and keen to read again.
This book, and this series, is perfect for young Minecraft lovers from age 5 and also parents/teachers who listen to children talk about this phenomenon and aren't sure who or what they are talking about!
Lauren Fountain
Jul 12 2017
The adventures of Miss Petitfour by Anne Michaels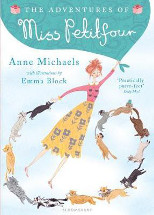 Bloomsbury, 2017. ISBN 9781408868058
(Age: 9+) Highly recommended. The adventures of Miss Petitfour is a collection of short stories describing the adventures of a lovely lady and her cats - cats who like arts and crafts and a lady whose favourite mode of transport is a tablecloth that flies.
Miss Petitfour has a collection of tablecloths that fly. It just depends on where she wants to go as to which cloth she chooses! Miss Petitfour is a whimsical character who, along with her 16 cats, loves adventures. One of her favourite things to do is to fly to her favourite bookshop in the village for tea and a chat with the owner.
In the first story, readers are introduced to Miss Petitfour and her cats. The cats go on all the adventures by inking their tails around each other and trailing behind Miss Petitfour like the tail of a kite. This story is also the first adventure. The marmalade jar is empty and a daring flight to the store occurs. it is a bit windy and one of the cats gets stuck on a pole.
The stories are descriptive, whimsical and gorgeous. Every now and then, a new word is introduced as part of the story. From 'perambulator' to 'gesticulation', the narrator speaks to the readers. This book is highly recommended for readers aged 9+ (including grownups). It is a lovely and innocent collection of stories.
Kylie Kempster
Jul 12 2017
Winnie the Pooh: The Great Heffalump Hunt by Giles Andreae
Egmont, 2017. ISBN 9781405278300
Piglet trotted happily beside his best friend Pooh.
Talking about nothing much as best friends often do.
When suddenly Pooh stopped and said, "I've got a Grand Idea".
"I'm going to catch a Heffalump. I've heard they live around here."
Giles Andreae of Giraffes Can't Dance fame has taken this wonderful and well-known adventure of A. A. Milne's Winnie-the-Pooh and reinterpreted into a delightful rhyme and pictorial experience. More than 90 years on from the first publication of the adventures of Christopher Robin, Winnie-the-Pooh, Piglet and Tigger inspired by a real-life bear Milne's stories are as enchanting and popular as ever so to have this one in a picture book version for our youngest readers is a treat indeed.
As well as providing a taste of the delights of what is in the original collection, it celebrates friendship, bravery and the imagination, even providing the basis for an inquiry project for beginners. Just what is a Heffalump, what does it look like, and what would be the best way to catch it? Each child could create their own version, design a suitable trap and bait and maybe even start to consider whether catching wild creatures is ever a good idea. Those a little older might even start to investigate the role of zoos and how they've changed, particularly given Winnie's origins.
Even though this is an adaptation of a classic, in its new form there are so many layers to explore that it is perfect as a standalone, and another generation will learn to love this lovable bear and his endearing friends.
Barbara Braxton
Jul 12 2017
Town Mouse, Country Mouse by Richard Jones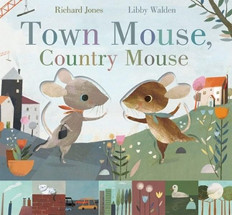 Ill. by Libby Walden. Caterpillar, 2017. ISBN 9781848575462
Living in a bustling town is exhausting for a little mouse and she dreams of a quiet place in the country. So she writes to her country cousin to see if she can visit for a while, swapping homes so they each have a holiday.. Country Mouse is very excited because he has always wanted to be "a mouse about town." But things are not quite as wonderful as they expect and neither is sorry when their holiday is over and it's time to go HOME.
This traditional fable from Aesop has been retold in rhyme, bringing its powerful message of what it means to be home and to belong to a new generation. Cleverly illustrated with a gentle palette and strategic cutouts it's a story that has endured over time because of its timeless message of "the grass always seems greener" . Little ones can have fun imagining what it might be like to live the life of their hero or in another place, but then also reflect on the things they would miss if they were really able to make the swap.
A classic.
Barbara Braxton
Jul 11 2017
Finding Gobi by Dion Leonard
Harper Collins, 2017. ISBN 9780008244521
(Age: 10+) Highly recommended. Finding Gobi is a gorgeous true story of loyalty, friendship and the lengths people go for their pets. Dion Leonard, an Englishman, is competing in the gruelling Gobi Desert marathon when he meets a homeless dog. There is an instant connection and Dion names her Gobi. Gobi becomes his running partner during the race but after the race is over, Dion must head back to England. Gobi, however, is unforgettable and Dion and his wife commit to bringing Gobi to England. This is no easy feat but thanks to crowd funding, local Chinese people and the media, Dion and his wife proceed to bring Gobi home.
Gobi is an easy to read story told from the perspective of Dion and Gobi. The story explains the steps Dion has to take in a very child-friendly manner and we see how much Gobi loves Dion from her comments. Readers will fall in love with Gobi and will be cheering for her every step of the way. The story takes place in China, making it a good class novel for Year 6. Students can map the journey, create reports on the Gobi Desert while investigating different perspectives. This book is highly recommended for readers aged 10+ and adults will enjoy it as well.
Kylie Kempster