Review blog
Click here for the ReadPlus Review Blog RSS feed. Copy the link location into your feed reader.
Sep 21 2017
Sir Scaly Pants and the dragon thief by John Kelly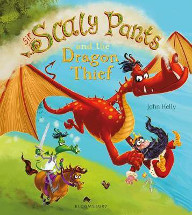 Bloomsbury, 2017. ISBN 9781408856062
(Age: 4-7) Recommended. This is the second story about Sir Scaly Pants the Dragon Knight and is just as entertaining as the first. This time the king is kidnapped by an evil dragon and Sir Scaly and his clever horse Guinevere, go to the rescue. After traipsing past a cyclops, a warty witch and a long-haired lady, Sir Scaly discovers the king tied up to a flagpole on the top of a very tall dragon tower.
Then he and Guinevere have to use all their wits to work out a way to rescue him.
The reader is introduced to 'The story so far' in an explanatory one page rhyme which describes how a knight raised him, how he went to Knight School, beat a smelly giant and became the King's champion. Then the story continues in humorous rhymes which are a joy to read aloud. The allusions to myths and fairy tales, like Rapunzel, will also appeal to astute readers, who will also appreciate the twisty ending.
John Kelly has been shortlisted for the Kate Greenaway Medal and his illustrations, bold and very colourful, will certainly appeal to his young audience. The evil dragon is a joy to behold, gripping the king in its forelegs and the looks on all the faces of both people and animals will have young readers giggling aloud.
This is an uplifting and very humorous story that will have instant appeal to young readers and listeners.
Pat Pledger
Sep 20 2017
His Royal Tinyness : A terrible true story by Sally Lloyd-Jones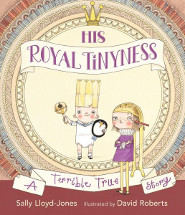 Ill. by David Roberts. Walker Books, 2017. ISBN 9781406324662
(Age: 4-8) Highly recommended. Humour. Siblings. Babies. Told from the point of view of "the most beautifulest, cleverest, ever-so-kindest Princess with long, flowing wondrous hair," this is the tale of a family that was happy until a new ruler was born, "His Royal Highness, King Baby". The story goes on to describe the terrible trials that Princess Marianna has to put up with, as His Royal Tinyness burps his way to his first birthday, when all the family's friends and relatives meet to celebrate this wondrous occasion.
Told in a very amusing narrative, the first year of the baby is described, while the little girl, resplendent in yellow tights on her head to denote her beautiful hair, learns to put up with no longer being the centre of attention in her kingdom. The addition of funny little sayings in parentheses like Marianna describing herself as (lovely in all her ways) greatly enhances the humour and will have readers laughing out loud. The ending is tender and loving and leaves the reader feeling uplifted as the little girl shows her love for her brother.
David Roberts' illustration are fabulous. I loved the retro images of the parents in their 70's outfits, bell bottom trousers on the father and hippy dresses and clogs on the mother but what really stood out for me was the addition of child-like drawings that Marianna drew showing the life that enfolds around her and just what she thought of the progress of her baby brother.
This would be a welcome addition to any house where a new baby is expected and would provide a humorous discussion point and read aloud in the classroom where families are being discussed.
Pat Pledger
Sep 20 2017
Little Shaq takes a chance by Shaquille O'Neal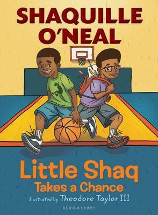 Ill. by Theodore Taylor. Bloomsbury, 2016. ISBN 9781619638785
(Age: 6+) Recommended. Themes: Talent; Friendship. Little Shaq loves basketball and he is good at it but is a little worried that he might not be good at art. He doesn't really want to try something new (including trying new foods). These struggles are happily overcome with the support of friends and family.
This early chapter book is a simple and encouraging look at family, growing up and talents. Written by a very famous basketballer, it is an unpretentious view of the journey through life for the talented Little Shaq. The bright illustrations are appealing and helpful for an early chapter book reader as they transition from picture books to novels.
Carolyn Hull
Sep 18 2017
The bad bunnies' magic show by Mini Grey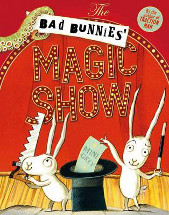 Simon and Schuster, 2017. ISBN 9781471157608
(Age: 5+) Recommended. Magic. Magicians. Deception. A slight change in plans means that The Great Hypno has been unavoidably detained and is replaced by the two bunnies, Mr Abra and Cadabra. The two bunnies take over the magic show usually put on by The Great Hypno, changing a fish into an octopus, using one of the bunnies as a target for knife throwing, changing a bird into a beast, and sawing a woman in half. All is done with the magic wand and the words, Hey Presto, reminding readers of days gone by when this sort of entertainment was far more usual than it is today. People reading the story with the children will have fun recalling the fairs, fetes and circuses which once were common in towns and cities alike. Television shows about magicians too seem now a thing of the past, and so this will rekindle interest and teach the words and images that went with this form of entertainment.
Mr Abra and Cadabra go on their merry way, eventually using hypnotism to get the audience asleep to steal from them, but the woman sawn in half comes to the rescue of The Great Hypno and all is well.
A wonderful read aloud story, I can imagine children and adults alike putting on various voices of the people involved, searching for The Great Hypno, detained by the bunnies and looking closely at the images that make up a magic show. Great fun and gloriously illustrated, with lift the flap pages adding to the intrigue.
Fran Knight
Sep 18 2017
100 things to know about food
Usborne, 2017. ISBN 9781409598619
This is a fascinating journey through the world of food that will not only appeal to budding young chefs but to anyone who likes to eat. Presented with lots of colourful illustrations with hundreds of simply expressed facts that are readily accessible to newly independent readers, it begins with an explanation of why we need to eat, the sorts of basic elements we need to have, like fats, carbohydrates, proteins, minerals and vitamins and then takes us on a journey of the most diverse and interesting topics. Who knew that hating Brussels sprouts could be in your DNA; that you should never bake meringues on a rainy day; or that the national fruit of Jamaica contains a deadly poison? Readers can find out about why farmers rent bees, the last meal served on the Titanic, even about the Frenchman who ate an entire plane between 1978 and 1980.
This is the sort of book that attracts young boys in particular, as they sit around a library table each sharing the same book and sharing the most outrageous pieces of information they can find. Despite the knowledge that they gain about the topic, the sheer enjoyment of the activity, and the affirmation that reading is not only useful but fun are enough to ensure that this book deserves a place in the collection.
As is usual with Usborne non fiction, information literacy skills are supported by a glossary, and an index, as well as pre-selected Quicklinks which take the learning even further. Another one for the information-hungry, daughter-of-a-chef Miss 6. She is going to be surprising her father with her new knowledge!
Barbara Braxton
Sep 18 2017
Under the same sky by Britta Teckenrtup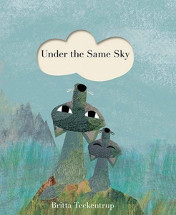 Caterpillar Books, 2017. ISBN 9781848575868
(Age: 4+) Recommended. Peace, Sharing. Under the same sky reflects the theme that we are all born under the same sky, with the same needs and wants, we share the same feelings even though we are spread across lands far away.
In brief spare phrases the author delivers this message in terms that can be understood by all readers, and supported with wonderfully evocative illustrations of animals looking up to our shared sky.
Britta uses the technique of collage and printmaking to create her illustrations and made more interesting with cutouts along the way, allowing children to turn a page and peek into what went before, phrases reprised in the next illustration. It adds another level of intent for the reader, already absorbed by the depiction of skyward looking animals. Groups of each species are shown on each page and then to underline the theme, all of them are shown together on the last double page. Readers will not miss the theme of the story that no matter who or what we are we share the same emotions, loves and fears, and so should work together.
Fran Knight
Sep 18 2017
Why do we need bees? Katie Daynes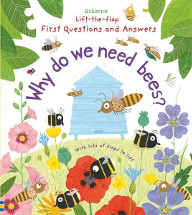 Ill. by Christine Pym. Usborne, 2017. ISBN 9781474917933
Type the title of this book into a search engine and you instantly get millions of results including this video, such is the importance of this tiny creature to the welfare of the world. For without bees to pollinate the plants there are no plants and therefore no food to sustain people or animals.
So it makes sense to make our very youngest scientists and botanists aware of the critical need to protect these creatures as they carry out their important work and this new release in the Usborne Lift-the-Flap series does just this.
Using the question-and-answer format that little children themselves use and which lays the foundations for inquiry-based learning, the role of bees is explored in six double page spreads. Each starts with a key question such as what are bees?; why do we need bees?; and where do bees live? and this is then supported by a more focused question, the answer to which is hidden under a flap. Delicately illustrated but sturdily constructed as a board book, each page offers much to explore and learn, with both the questions and answers in simple sentences and vocabulary that young readers understand. And for those who want to know more Usborne Quicklinks supplies vetted weblinks to satisfy.
Children are curious about the world around them and we know that as parents and teachers we can't always answer all their questions. Helping them understand that there is information to be found in books and their questions can be answered is a first step in the development of their information literacy, and learning that you can dip and delve into books as your interest is piqued and that you can readily return to what you discover is invaluable.
Even though this is a lift-the-flap book, a format normally associated with the very young, it contains a way into non fiction that is perfect for early childhood and could serve as a model for presentation for older students required to investigate the world around them as they learn to pose questions as well as answer them succinctly. An interesting way to introduce keywords, note-taking, summarising, paraphrasing and using your own words!
A book that has riches beyond those given to us by its subject!
Barbara Braxton
Sep 15 2017
The Wee Free Men by Terry Pratchett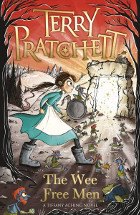 Tiffany Aching book 1, Discworld book 30. Corgi Childrens, 2017. ISBN 9780552576307
(Age: 10 - Adult) Highly recommended. Fantasy, Locus Award for Best Young Adult Novel (2004), Mythopoeic Fantasy Award Nominee for Childrens Literature (2004) (2016), Parenting Book of the Year Award (2003), WH Smith Teen Choice Award (2003). Terry Pratchett needs no introduction. An award winning author, he has excelled himself in The wee free men, which introduces the spirited Tiffany Aching. First published in 2003, this 2017 edition will delight another group of readers with its feisty young witch-to-be and the horde of wee free men in their kilts who help her chase down the wicked queen who has stolen her baby brother.
The wee free men is an absolute delight to read. Pratchett's unique sense of humour is evident on every page as he manipulates words in the best possible way. Not only does he make the reader laugh aloud at some of his descriptions and dialogue, but he also makes the reader think about the power and use of the written word: "Tiffany thought a lot about words, in the long hours of churning butter. 'Onomatopoeic', shes discovered in the dictionary, meant words that sounded like the noise of the thing that they were describing, like 'cuckoo'." pg. 129.
Tiffany is a brilliant young girl who longs to be a witch. Sensible and practical, she knows that it is the right thing to go and rescue her brother even if he is annoying. Granny Aching is her grandmother, a powerful shepherdess, who looked after all the sheep and lambs on the chalk lands and protecting those who don't have a voice and from her Tiffany has learnt about doing the right thing even if it is hard. As the story progresses the reader will grow in understanding with Tiffany as she works out what is important if you have power, sympathize with her as she sorts out her feelings for her brother and laugh at the antics of the wee free men.
This would be an ideal book to give any reader as an introduction to fantasy and lovers of fantasy who have not tried Terry Pratchett's wonderful books before will be in for a wonderful read.
Pat Pledger

Sep 15 2017
Oi cat! by Kes Gray and Jim Field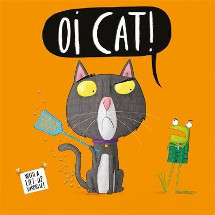 Hodder, 2017. ISBN 9781444932515
(Age: 4+) Highly recommended. Cats, Rhyme. Oi frog and Oi dog, the previous books in this wonderfully subversive series, tell us that the rules are simple: cats do not sit on mats and dogs do not sit on frogs. These rules have come of course, from the frog, so the cat must now find another rhyming word that can be used for him to sit on, the phrase, 'the cat sat on the mat' being terribly passe.
The obvious answer is gnats, but readers will quickly surmise that the cat is upset by the nasty nipping gnats and so must move on to another rhyming word. So the fun and games continue, with rhyming words being offered, but all being found wanting. Lark belongs to shark, and armadillo to pillow, dogs sit on logs, lemurs on streamers, and trolls sit on dolls. The very funny illustrations underline the humour of the text and readers will laugh out loud at the ludicrous pairings offered, as well as the animals and lists of rhyming words.
The dog seems to be most interested in the cat's bottom, causing readers to shriek with laughter, as they well know that dogs and cats do sniff around this particular part of other animal's anatomy, and they will laugh too at the different meanings for the word bat or the pageful of rhyming words for cat. All in all the book offers immense fun for the readers who will predict, laugh and engage with this highly amusing text accompanied by wonderful illustrations. And the lift the flap on the last page will be infectious, readers wanting to take turns at finding out what is beneath the flap. Have your whiteboard marker ready for all the suggested rhyming words which will be offered.
Fran Knight

Sep 15 2017
The City of Secret Rivers by Jacob Sager Weinstein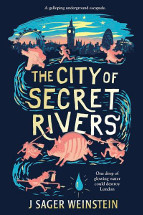 Walker Books, 2017. ISBN 9781406368857
(Age: 9+) We stood there for a moment, the drop of water and I. And then we both leapt at once. Hyacinth Hayward has accidently unleashed magical powers flowing under London. The shambling Saltpetre Men have kidnapped her mother and the Toshers want to trap her in the sewers. Then a giant pig in a swimsuit, Oaroboarus, insists on an underground tea party, but Lady Roslyn has other plans. The clock is ticking and Hyacinth must figure out who to trust.
For those children who like books such as A Series of Unfortunate Events, where good needs to conquer evil, this is a must read for them. It is easy to read with the text being relatively large. Weinstein has written a book that is extremely imaginative with clever little twists and turns. It is full of action, humour and descriptive language that truly brings alive the repulsive stench associated with sewers. Historical places in London have been cleverly interwoven throughout the storyline.
Hyacinth is a strong lead character, ably supported by Lady Roslyn. Their friendship strengthens as the story unfolds.
Themes such as friendship, perseverance and adventure run strongly through the book. This book will sit nicely alongside other fantasy books on the shelf and is the first in a trilogy. Suitable for ages 9 and up.
Kathryn Schumacher
Sep 14 2017
The explorer by Katherine Rundell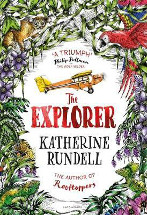 Bloomsbury, 2017. ISBN 9781408885284
Highly recommended. Like a man-made magic wish, the aeroplane rose into the sky. It did not stay there for long. Fred has always dreamed of becoming an explorer, of reading his name among the lists of great adventurers. But when his tiny plane crashes in the Amazon jungle on his way back to England, his dreams suddenly become all too real. Fred, Con, Lila and Max are stranded without hope of rescue, and their chance of getting home feels terrifying small. The pilot dies and the children are forced to survive alone for days until Fred finds a map that leads them to a ruined city and a secret. Except, it seems someone has been there before them...
This book was fast-paced, warm and descriptive. Themes such as resilience, survival, adventure, hope and friendship are developed as the book unfolds. The words used by Rundell allow you to feel the heat of the jungle, taste the unusual foods including tarantula eggs, share the highs and lows the children experience and see friendships develop between children who are all extremely different. It would make a fantastic read aloud, but it is not for the faint hearted as it is 399 pages, but the text is relatively large. I can imagine a class completing some amazing visualisation activities based on the rich, descriptive language Rundell uses. This is a must-have in the library.
Kathryn Schumacher
Sep 14 2017
How to resist: Turn protest to power by Matthew Bolton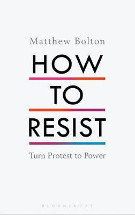 Bloomsbury, 2017. ISBN 9781408892725
(Age: Secondary - Adult) Recommended. Matthew Bolton was Citizen UK's lead organiser for the national Living Wage Campaign whereby different community groups united to win the 'national living wage' for low-paid workers. In this little pocket-sized book he shares what he has learnt about campaigning on social justice issues - 'practical tools and principles to show how people can get together and make change happen'. He puts great emphasis on democratic participation, helping people to be effective citizens. It would be really useful for students of Civics and Citizenship to read this book, to go beyond the feel-good protest march, and gain the sense of empowerment from actually uniting and achieving goals through well-planned strategies.
History students would also gain greater insight into civil rights movements of the past. Bolton reveals how the famous incident where Rosa Parks refused to give up her seat on the bus was not just frustration at the end of a long hardworking day; Rosa had been active in the civil rights struggle for ten years before the bus action. But at the right moment her action captured national attention.
Similarly the strategy of 'action in the provocation of overreaction' is illustrated by the events of Selma 1964-65. Selma was chosen by Martin Luther King and other key civil rights leaders precisely because of its reputation for violent conduct towards African Americans. The violence directed towards a peaceful march at Selma drew national attention and became impossible to ignore.
Other strategies are revealed in the book - with lessons learnt from the failures as well as the successes. There are many useful tips, but none more useful than the Iron Rule - shift from trying to solve people's problems for them, to building the capacity of people for collective action and political change. It is a great lesson. I think all readers could learn something from this guidebook.
Helen Eddy
Sep 13 2017
Leaf by Sandra Dieckmann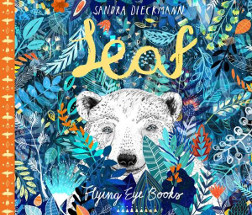 Flying Eye Books, 2017. ISBN 9781911171317
(Age: 4+) Highly recommended. Polar bears. Climate change. Hope. Difference. An animal floats into the bay, and finds a cave to shelter in. The animals all stay away from him, they have never seen anything like him before, and when he goes out into the forest and eats leaves, they run away. The other animals view him with suspicion, concerned that he is different. Everyday the creature they have called Leaf, is discussed amongst the other animals. One day they see him covered in beautiful leaves running through the forest. He leaps off the edge of the cliff but falls into the water, retreating to his cave. When he attempts this again and is lying exhausted on the shore, the crows decide to talk to him. He tells them that he is a polar bear and has drifted a long way from his home and desperately wants to go back. The crows work out a way that they can take the animal back to his own environment and the other animals decide to tell his story, so that no animal would ever get lost again.
Children will love hearing of the polar bear's plight and the way the animals are at first suspicious of something so different, relating it to their own classroom or neighbourhood, where someone new is not initially welcomed. The story of the animals working together to help the polar bear will encourage them to feel for the newcomer, and marvel at the way things can be resolved.
This story of the outsider is beautifully illustrated with brightly coloured detailed drawings that will entice younger readers to look more closely at the pages to see what they can see.
Fran Knight
Sep 13 2017
The secret garden and other stories
Usborne Illustrated classics. Usborne, 2017. ISBN 9781409586562
Usborne have added another volume to their stable of illustrated collections that bring us the myths and legends that have been shared with and enjoyed by children throughout the generations. This collection includes The secret garden, The railway children, The wizard of Oz, Black Beauty, Little women and Heidi, all based on the original stories and beautifully illustrated to entice the young reader ready to take their reading in a new direction.
There are some stories that have endured over time for very good reasons and this collection is one that celebrates some of those that continue to be published in full so many years later. They are the sorts of stories that grandparents and even great-grandparents remember fondly and love to give, so these abridged versions are the perfect introduction to the longer, original stories. Apart from just being a good read, they give 21st century children a glimpse into the lives of children of the past, to a time when life wasn't dominated by screens and technology. Who wouldn't be tempted to explore the mysteries of Misselthwaite Manor, wander down the yellow brick road or be afraid of going from luxury to poverty overnight?
As well as being an essential addition to the collection, this could be one to flag in your suggestions for Christmas purchases for parents!
Barbara Braxton
Sep 13 2017
Poe stories and poems: A graphic adaptation by Gareth Hinds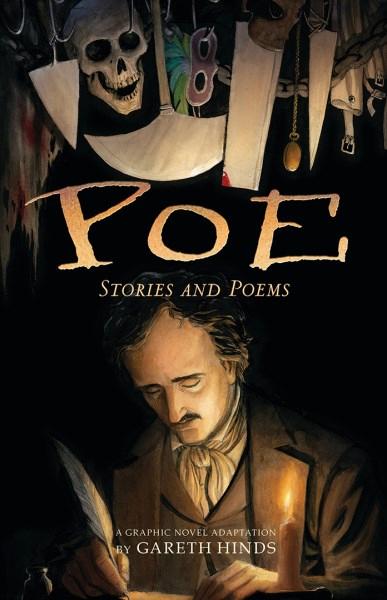 Candlewick Press, 2017. ISBN 9780763681128
(Age: Secondary) Highly recommended. Themes: gothic horror, death, disease, insanity, loss, confinement. Edgar Allan Poe's classic gothic horror stories and poems remain popular, particularly
The Raven
1845. In this collection of four story adaptations and three poems Hinds is able to amplify the horror and dread that infuse the American master of suspense's stories and the sense of sadness and loss of the poems. Each has its own rendered style and period with darkness and light masterfully used to complement and interpret the words. In the
Masque of the Red Death
a prince seeks to escape the horror of the plague which is ravaging his people by sealing himself and his court in a secure abbey. He holds a masked ball in a series of colour themed rooms, brilliantly rendered, until the inescapable red death enters and all colour drains away. Darkness pervades
The Pit and The Pendulum
as the protagonist in white outline, feels his way in complete darkness until a dim light reveals the horror of his situation. Trapped and immobilised under a descending blade very realistic rats surround him. The suspense as the swishing blade descends ever nearer is sustained and terrifying.
The Raven
is pencil rendered in monochrome, incorporating some images from the preceding stories while sinister images appear in the ever present raven's feathers.
The narrator is depicted as Poe, whose life, outlined in the Author's Note at the end of the book, seems to have been as remarkable as his writings and whose death mysterious. A visual key to Poe's recurring motifs is provided and discreet footnotes explain archaic words making the works accessible to all lovers of the macabre. Succinct notes on each piece at the end of the book wrap up this deceptively slim volume.
Highly recommended for making complex material more readable, being a bridge for students first encountering the classics, a great introduction to Edgar Allan Poe.
Sue Speck
Sep 12 2017
The Goldfish Boy by Lisa Thompson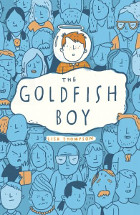 Scholastic, 2017. ISBN 9781407170992
(Age: 10-14) Highly recommended. 'Goldfish Boy' is the nickname given to Matthew by one of the visiting grandchildren of a neighbour. Matthew is in his own form of goldfish bowl, staying in his bedroom night and day, staring out of the window, looking at the goings-on in his neighbourhood.
His OCD behaviour has made it impossible for him to attend school or join in any family activities. He records all the actions of the people who live in his small street in notebooks. They are all everyday occurrences until toddler Teddy disappears from his grandad's front garden. Who has taken him and can Matthew solve the puzzle?
Matthew is helped by a young neighbour, Melody Bird, who insists on supporting him in his quest. She has her own issues and problems (as do all the street residents) but her own determination and acceptance of Matthew creates a friendship between them.
Lisa Thompson has made Matthew a believable character who struggles with a family tragedy by keeping germs at bay. He is flawed but likable and his humour and observations of others adds a lightness to her writing.
Bullying, kidnapping, OCD, loneliness and personal loss are all issues discussed, as the mystery of the missing child is slowly unravelled.
The cover by Mike Lowery shows Matthew 'alone' in a crowd of his neighbours. Its restricted pallet of colours works well and demonstrates this book is not a mainstream mystery story.
This was an engrossing read and the nearly 400 pages of story passed very quickly. A very accomplished first novel by Lisa Thompson. I highly recommend this book for students aged 10 to 14 years old.
Jane Moore
Sep 12 2017
On the night of the shooting star by Amy Hest and Jenni Desmond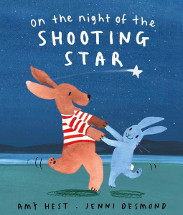 Walker Books, 2017. ISBN 9781406377330
(Age: 4+) Highly recommended. Friendship. Borders. In this fable for modern times, Dog and Bunny live next to each other. They carry on their own lives, doing what each does: Dog loves to knit and sits in the garden knitting and listening to his radio, while Bunny nibbles all day in the long grass on her side of the fence.
The beautiful illustrations show us the two lives, living next door but not interacting at any time. Each wonders what the other is doing but no one speaks. Each wonders why the other has no friend, but does nothing about it. Until one night a shooting start passes overhead. It is gone in an instant, but as each animal retires to their own houses, they think about what they have seen.
They resolve to do something, and Dog takes a plate of biscuits to the fence, while Bunny brings out cocoa.
Once the ice is broken, the two become inseparable friends, spending each day with each other doing the things they love to do and doing them together.
Readers will understand the message of the book immediately. It is a situation they will all know well, finding new friends, meeting new people, being reticent to make the first move. All sorts of discussion will emanate after reading this book, and children will eagerly scan the pages for detail about the lives of Dog and Bunny shown in the witty illustrations. And of course, talk about shooting stars, and how they occur and when they can be seen. Wikipedia has a concise definition of a falling or shooting star, and there are some photos of them on the internet.
Fran Knight
Sep 12 2017
Toto: the dog-gone amazing story of the Wizard of Oz by Michael Morpurgo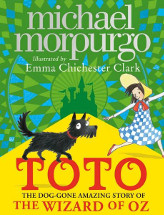 Ill. by Emma Chichester Clark. Harper Collins, 2017. ISBN 9780008134594
(Age: 8+) Highly recommended. When I had my sixth birthday my older sister gave me an illustrated copy of The Wizard of Oz and I immediately fell in love with the story. This poor book (which I still have) was re-read many times and is now looking a little shabby but is still treasured deeply.
How absolutely marvellous to have one of our greatest modern storytellers bring a fresh new take on this now 'antique' tale - first published in 1900 by L. Frank Baum. Michael Morpgurgo has conceived a wondrous version which re-tells the story from the point of view of Toto, Dorothy's courageous little dog.
Now an old Papa dog, Toto delights in telling the young pups stories and of course the favourite is the story of his and Dorothy's adventures in the Land of Oz. Most of the pups get bored with the endless reminiscences but not the youngest who laps them up especially the Oz story no matter how many times he hears them.
Toto's voice is completely as one might imagine from a little Kansas country dog and this re-tell keeps closely to the original story which is especially satisfying. Morpgurgo also keeps closely to the language style of the original while still making it accessible to modern readers.
Colourful and contemporary styled illustrations give this book a really attractive and vibrant look which will thoroughly engage young readers for what might be their first introduction to the Oz stories. They will definitely love the 'emerald' foiled highlights on the cover!
Much as I love my original even after so many years this was simply a joy to read - as indeed are all Morpurgo books!
Highly recommended for readers from around 8 years upwards!
Sue Warren