Review blog
Click here for the ReadPlus Review Blog RSS feed. Copy the link location into your feed reader.
May 30 2017
The midnight mystery by Clara Vulliamy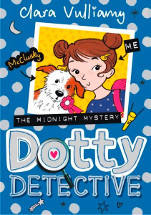 Dotty Detective bk 3. HarperCollins Children's Books, 2017. ISBN 9780008132422
(Age: 6+) Recommended. Mystery. Detective. Camps. The Join the Dots Detectives have a brand new adventure to enthral fans. Dot and Beans are off on an Adventure Camp. They're looking forward to being away from home and going grass tobogganing and sitting around a campfire at night. Under the guidance of their teacher Mr D the class is divided into groups and all want to win the Adventure Camp Prize but Laura is up to her old tricks again and weird things start to happen. Meanwhile back at home McLusky has been entered into the Larks in the Park Dog Show and Dot really wants him to win something in the competition.
Vulliamy once again brings an exciting book for young fans who might imagine themselves as detectives. She introduces her young detectives and their school group at the beginning of the book in such a way that readers new to the Dotty Detective feel comfortable in picking up the book, even if they haven't read the first two in the series, Dotty Detective, and Dotty Detective: The pawprint puzzle. The adventures at the camp are vividly described and Dotty is very clever about finding out why strange things are happening and is also very compassionate when she uncovers the unexpected truth at the conclusion of the camp. McLusky, her gorgeous little dog, also trains hard at home for his appearance in the show.
This is a delightful tale that will appeal to children who may be afraid about going to Adventure Camp as the illustrations give a good idea of what to expect and will be reassuring about what will happen there. Her depiction of the teacher and helping hands at the camp was also encouraging for children who may be a little scared about being away from home.
Written in the very popular diary form this will have immediate appeal for the young reader who is just starting out on junior novels. Large print with lots of bold words will help the emerging reader and funny little illustrations add to the humour and suspense of the story and the picture code that Dot and Beans used will be a challenge for children who like to solve problems.
Pat Pledger
May 28 2017
Once and for all by Sarah Dessen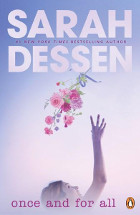 Penguin, 2017. ISBN 9780141386690
(Age: 15+) Highly recommended. Adolescent. Feel good book. Resilience. I am a fan of Sarah Dessen's novels and Once and for all did not disappoint. Louna is the daughter of a wedding planner and helps out at the wedding functions that are held in all sorts of places - on the beach, in fancy hotels and in lovely gardens. She has seen all types of brides, from the tearful to the pushy and is rather cynical about happy ever after endings especially as she has had a tragic love affair. Ambrose, a happy go lucky young man who dates different girls all the time, comes to work with the team and Louna is determined to keep him at bay as she tries to overcome her grief about her former romance. She ends up having a bet with Ambrose: for 7 weeks he has to stick with one girl and she has to date multiple guys.
As the story progresses, the reader is taken back in time showing the heart breaking journey that Louna has taken with her first love, Ben. Telling what happened would spoil the story but it is journey that gives Once and for all so much depth and poignancy. The reader gains a deep insight into Louna's feelings about romance and love and aches for her as she gradually come alive and begins to open herself to a new romance. Ambrose too has to come to grips with his butterfly approach to dating and gradually he becomes aware of the meaning of love. Dessen has surrounded Louna with a supportive mother and business partner, William, who both have to come to grips with their need for partners and her friend Jilly is a great character.
Insight into the wedding planning business and flashes of humour round out what is a most appealing story that will remain with the reader, as they ponder first loves and the moments that are most important.
Pat Pledger

May 26 2017
Contagion by Teri Terry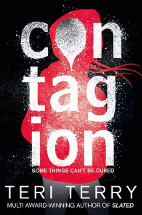 Dark Matter, bk 1. Orchard, 2017. ISBN 9781408341728
(Age: 13+) Recommended. Science fiction. Infections. Dystopian fiction. When Shay sees a poster with the face of a missing girl, Callie, she knows that she saw her get into a car with a man over a year ago. She contacts Callie's brother Kai and together they begin a search which leads them into a terrifying epidemic that is sweeping the land.
Terry immediately grabs the reader's attention with a frightening prologue and then switches to Chapter 1 and the topic of Subject 369X, who is taken off to be 'cured' in a horrendous scene. Subject 369X is Callie and she is transformed into a shocking state, able to see what is happening and to travel, but no longer having a body. After the lab she was held in explodes and oil rigs nearby disintegrate, the epidemic takes over Scotland. Kai and his doctor mother appear to be immune and Shay manages to survive the disease.
The scenes of what happens when the disease takes over, the dying people, the disposal of their bodies and the quarantine by the army are all described vividly, but it is Kai and Shay's quest to find Callie that takes centre stage. The narrative consists of short alternative chapters by Callie and Shay, each adding to the suspense and the reader's understanding of what is going on.
The action and suspense are so gripping that it is difficult to put Contagion down, and the themes of revenge, survival and romance keep the reader enthralled. There is a cliff hanger ending that will ensure the next instalment in the series is picked up immediately it hits the shelves.
Pat Pledger
May 26 2017
Supertato: Run, veggies, run by Sue Hendra and Paul Linnet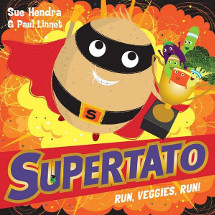 Simon and Schuster Children's, 2017. ISBN 9781471121036
(Age: 4+) Recommended. Humour. Vegetables. Sports Day. Supertato has decided that it's time for all the vegetables in the supermarket to get fit and so he organised a sports day with lots of prizes. Then along comes the Evil Pea, with Gloria, a giant watermelon, who is determined to win all the prizes. Supertato gets things going and it looks as if the Evil Pea will walk away with everything, until Supertato comes up with a brilliant idea that derails Evil Pea's dastardly plan.
The third in the series with Supertato as the star (Supertato and Veggies assemble) will keep readers giggling as they follow the antics of the vegetables on Sports Day and try and work out just what Supertato will come up to foil the Evil Pea's plan to have all the prizes. They will also have fun identifying the pictures of the vegetables in the races and in the background of the story and there is the added incentive of working out what Gloria is supposed to resemble.
The illustrations are bright and cheerful and the expressions on the faces of the veggies will bring a smile to the faces of readers and listeners.
This will be a firm favourite of young children with its original storyline, subtle hints on healthy veggies and exercise and fun characters.
Pat Pledger
May 26 2017
Tales from the Shadowhunter Academy by Cassandra Clare and others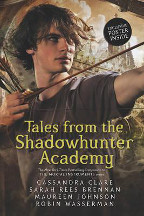 Tales from the Shadowhunter Academy bks.1-10. Walker Books, 2017. ISBN 9781406373585
(Age: 13+) Highly recommended. Fans of Cassandra Clare's series will be delighted with this compilation of ten illustrated stories previously published individually as e-books. The stories by Clare, Sarah Rees Brennan, Maureen Johnson and Robin Wasserman follow the adventures of Simon Lewis, star of The Mortal Instruments, as he trains at the Shadowhunter Academy. Simon doesn't know who he is anymore as he has lost most of his memories so he decides to train really hard to become a Shadowhunter, hoping that he will regain his identity as he goes.
This compilation is very clever and engrossing. People who have read all the books will gain insights into the backgrounds and what has happened to different characters as Simon progresses through his training. I was particularly interested to read about Tessa Gray and what happens to her as an adult, revealed in one of the stories when she is a guest lecturer at the academy. Other characters appear, like Jace Herondale and Magnus Blane, but each story grows on the back of the previous one, and the reader gets to know and sympathise with Simon as he struggles with his memories of Isabelle, his feelings of worth and his friendships at the Academy. It makes for a complete view of the Academy and what is involved in training to become a Shadowhunter.
Some big themes are touched on - class and privilege, stereotypes and duty of care, all done in an engrossing way, with Simon having to make some difficult decisions about who he is and where he belongs. Each story is illustrated at the beginning, with graphic novel type of illustrations, which are interesting to peruse.
For readers who are not familiar with the Mortal Instruments, Infernal Devices, and Dark Artifices series, there is enough in the stories to ensure that they will pick up the series, just to find out what has happened in the past and readers familiar with the books will be eagerly awaiting the upcoming Last Hours series. Readers may also want to go on and read other books by Brennan, Johns and Wasserman.
Pat Pledger
May 26 2017
Raymie Nightingale by Kate DiCamillo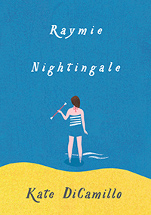 Walker Books, 2017. ISBN 9781406373189
(Age: 9+) Highly recommended. Friendship, Grief, Single parents, Aged care, Competition. When her father leaves, Raymie is distraught. She joins a baton twirling class in the hope of winning Little Miss Central Florida Tire 1975, so having her picture in the paper to lure him back home. She knows that doing a good deed will sit well with the judges and tries to find one. But her soul does not seem to be getting much bigger. At the class she meets two other hopefuls, Louisiana and Beverley, each of whom have quite different reasons for being there. Beverley is a take it as you see it type of girl, no holds barred, straight talking and often abrasive, while her cynical comments about baton twirling, cat homes, families and the outrageous Ida Nee will have the reader laughing out loud. Louisiana is an orphan but quietly determined and lives with a very odd grandmother, always on the lookout for the authorities who may take her to a children's home. All three girls are quite different but come to work together to achieve their goals.
But the class does not turn out as it should, partly because of the antics of the very odd teacher, Ida Nee, and Raymie decides to read to someone at the aged centre instead of going to class, so embroiling Louisiana and Beverley in her attempts to retrieve the library book which she loses under one aged person's bed. Beverley wants to sabotage the baton competition, while all Louisiana wants is to get her cat, Archie back. Losing any possibility of winning the money for baton twirling, the girls decide to take matters into their own hands and go to the cat shelter to get Archie, making use of Beverley's skills.
A very funny, darkly humorous episode at the end sees Louisiana in hospital with an array of parents and caregivers arriving to tend to their girls. Raymie's soul becomes larger as she develops friendships and helps solve some of their problems, while accepting that her father is not returning.
Beautifully written, this tale is most appealing in detailing the lives of three young girls who do not quite fit in and are certainly not what they seem. The story evokes understanding and pathos, sympathy and humour as The Three Rancheros set out to right some wrongs.
Fran Knight
May 25 2017
Animal activity: Cut, fold and make your own wild things by Isabel Thomas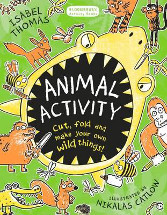 Ill. by Nikalas Catlow. Bloomsbury, 2017. ISBN 9781408870068
(Age: Independent readers) Recommended. The subtitle 'Cut, fold and make your own wild things!' gives a good indication of what the user can find inside. Once opened the words 'This book will self-destruct' are sure to intrigue and make the reader wonder just what they are going to find inside and just how one makes a book destroy itself. The instructions on 'How to wreck this book' will take any user off on an adventure learning about the natural world. Choosing 'Make a flower explode' (page 37) gives instructions on pulling a flower apart and naming its parts. 'Turn paper back into a tree' gives instructions for making a paper tree, and peopling it with creatures. The reader will have fun going outside, shaking a tree and seeing what living creatures fall out!
There are many such activities in the book, each providing hours of fun while the user learns about the natural world and animal activity. Many require scissors, glue and paint and some need an adult to supervise, but all will keep the reader occupied and interested. Certainly the book will not be intact after children start using it.
This would be a wonderful book to have on hand for holiday enjoyment or to use to pry young children away from their screens. Teachers may also find that many of the activities could be useful in the classroom.
Pat Pledger
May 24 2017
Forever Geek by Holly Smale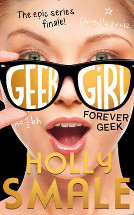 Geek Girl series. HarperCollins, 2017. ISBN 9780007574667
(Age: 11+) Recommended. Humour. Feel good book. In the finale to the very popular Geek Girl series, Harriet Manners, the geek, the model and the control freak is on her way to Australia with her grandmother Bunty and her best friend Nat. She has said goodbye to Jasper, her not quite boyfriend at home and statistically, she believes that it is unlikely that she will bump into her Australian ex-boyfriend Nat in Sydney. She is completely unprepared to see Nick and she faces quite a few sticky situations that her list making and preparation can't help her with.
This is a very fitting conclusion to a humorous series that fans will be sad to see finish. Harriet is her usual self, inundating the reader with numerous strange facts about all sorts of things. Her witty comments will give many laugh out loud moments and there is a lot of good advice about fitting in, being yourself and having friends that the reader will appreciate as Harriet comes to grips with who she is and what she wants out of life.
Readers will be waiting for whatever Holly Smale writes next.
Pat Pledger
May 24 2017
I don't know what to call my cat by Simon Philip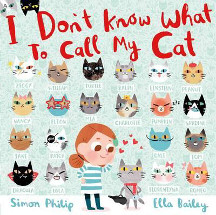 Ill. by Ella Bailey. Simon and Schuster, 2017. ISBN 9781471124129
(Age: 4+) Recommended. Cats, Family, Decision making. All readers will enjoy reading the covers of this inviting book, seeing the cats' names reflecting their attributes. I laughed out loud at Dali's moustache, Elton's eyes and Ziggy's scar, and readers will pick up the humour before they open the first page.
When a cat choses the protagonist as its owner, she has a lot of trouble finding a suitable name. She scrolls through many: Betty, Lorraine and Ethel and so on, until a visit to the vet shows her that she needs a boy's name. Then a similar scrolling through a number of boys' names occurs with the cat rejecting them with his bahviour. Readers will laugh out loud at the animal's antics, and sympathise when it appears to run away, doffing the clothes in which it has been dressed. Surprisingly the girl goes to the zoo, and selects an ape for her pet, but he destroys her house until the zoo keepers retrieve him.
When he disappears back to the zoo, her cat reappears resplendent with his name, Tricky on a plate around his neck. She is ecstatic and draws a line across the floor, delineating how they will now interreact with each other.
With detailed digital illustrations the relationships between the young girl and the animals will cause lots of laugh, as they work out their boundaries. Readers will have a great time finding the cat on the pages where he has run away, shouting out to the little girl where to find him.
As the children read this story they will assimilate information about how to look after a pet and some of the responsibilities in doing so.
Fran Knight
May 24 2017
First Baby Days series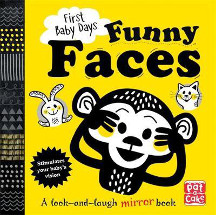 Pat-a-Cake, 2017
Funny Faces
. ISBN 9781526380005
On the Move
. ISBN 9781526380012
(Ages: 0-2) Recommended. Board books, high-contrast illustrations. These high-contrast board books have been designed to stimulate even the youngest children. Testing them out on my own two-month-old gave credibility to this claim; she was more engaged with the illustrations in these two titles than with other brightly coloured illustrations. Not only did she look at the pictures for longer but she also followed the book with her eyes. When held in front of her she also became calmer, seemingly enjoying the stimulation.
Each book contains one bright colour (yellow, red) as well as black, white and grey. The illustrations are bold with simple patterns and the text encourages the parent to interact with the child (e.g. 'Hello, little panda. Wave to little panda!'). Infants love to look at faces so will love the big expressive faces of the animals in
Funny Faces
and enjoy looking at themselves in the large, clear mirror (many mirrors placed in books are tiny and don't reflect well). They will also enjoy the noises of the vehicles in
On the Move
(Brrm! Choo! Zoom!) and tracking the impressive pull-tabs (there are pull-tabs within pull-tabs), which are robust enough to withstand rough treatment.
These two titles are great for infants but will also entertain toddlers.
Nicole Nelson
May 24 2017
Toddler's world series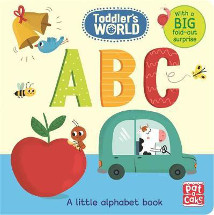 Hodder and Stoughton, 2017.
ABC. ISBN 9781526380029
123. ISBN 9781526380050
Animals. ISBN 9781526380036
Colours. ISBN 9781526380043
(Ages: 1-3) Recommended. Board books, concept books. Each of these bright, colourful board books has playful illustrations that toddlers will love to explore and big, interactive foldouts on their final page. Their simple format allows children to lead the exploration and encourages parent-child interaction. The books use toddler appropriate content to teach simple concepts and include things that toddlers love (balls, rockets, balloons, animals, vehicles, etc.). These are English publications so objects or things are not necessarily Australian (e.g., wood animals are badgers, hedgehogs, etc.) or are called something different (e.g., pepper instead of capsicum), but this doesn't greatly detract from their value. In Colours, ABC and Animals, which are separated into sections and have labelled pictures, toddlers will enjoy pointing out and naming things familiar to them. The counting book uses many number representations (figure, dots, number of items, written word, highlighted number in sequence), meaning children are exposed to number in its many forms.
The last foldout page in each of the books asks children to consolidate their learning (count how many, name the animals, etc.). All of the books are incredibly robust to withstand even the toughest toddler treatment.
Nicole Nelson
May 23 2017
But then I came back by Estelle Laure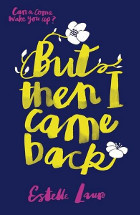 Orchard Books, 2017. ISBN 9781408342541
(Age: 14+) Recommended. Eden's life was all figured out - she was going to go to New York and dance with the Bolshoi, she was going to be a star!
After the accident however, all her plans are thrown into doubt. Having woken from a coma a month after falling into the river, Eden doesn't know whether she'll ever dance again. There goes fame, fortune, and college plans. Instead she is consumed by the depression of the displaced, and the mystery of her fellow coma girl, Jasmine, who she met on the 'other side'. Preoccupied by Jasmine and the mysterious black flowers, Eden finds herself neglecting her old life and her family in order to try and help this stranger come back. But is her determination solely because she feels close to the other girl, or because of the boy with the white roses and chocolate eyes? It seems that when everything is going so wrong, something has to be so right.
Sequel to This raging light, But then I came back can be read in addition or on its own. Intelligent and thoughtful, Estelle Laure (and Eden) make many literary references throughout the novel to the canon. It is a novel about recovery, discovery, and comfort with a pleasant possibility for what might be beyond the veil. A relatively easy read, the novel addressed issues surrounding family, depression, and future thinking. I would recommend this novel for students aged fourteen and up.
Kayla Gaskell, 21
May 23 2017
The princess and the frogs by Veronica Bartles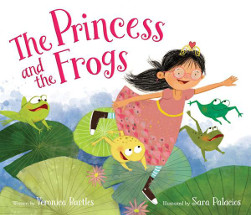 Ill. by Sara Palacios. Balzer and Bray, 2017. ISBN 9780062365910
Princess Cassandra had everything she could possibly want - hundreds of dresses, thousands of books and servants to bring her anything she wanted. She should have been the happiest princess in the world. But there was one thing she didn't have - she was lonely playing by herself and desperately wanted a best friend. In particular, she wanted a pet - one that would match her best dress, swim and jump and play all day and at night sit on her pillow and sing to her. So the Royal Pet Handler set off on a quest to find the perfect pet, but nothing was quite right. The mouse was too squeaky, the kitten refused to swim, the hippo wouldn't jump and none of them were green. The task seemed impossible until one day the Royal Pet Handler arrived with a frog. It seemed just perfect. It was able to swim, jump and play, AND it was green. But when Princess Cassandra put it on her pillow and kissed it goodnight, it turned into a prince!
"Princes aren't pets," she declared and banished it to the royal kitchens. So the Pet Handler went in search of another frog and the same thing happened. Again and again and again, until there were princes everywhere. Then one day, the princess found her own frog but the same thing happened, except this time the prince wanted to stay a frog. Will she ever get the perfect pet?
This is an hilarious take on the traditional Princess and the Frog story made even more so by the terrific pictures from Palacios who brings the characters to life through their facial expressions. Who would have thought there were so many different frogs?
A playful bedtime read that might make little ones think twice about kissing things goodnight!
Barbara Braxton
May 23 2017
The most perfect snowman by Chris Britt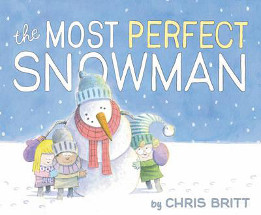 Balzer and Bray, 2016. ISBN 9780062377043
Built in the first flurry of winter snow, Drift was the loneliest of snowmen. With his stick arms, small mouth and coal eyes he stood forlorn and forgotten amongst the bare winter trees. He dreamed of having a smart scarf, warm gloves and a long orange carrot nose like the other snowmen so he could join in their banter, their fashion parades, snowball fights and other fun stuff. But he was too plain and different to be included, so his days were spent swooshing and sliding through the woods, stopping and standing in the shadows to watch the others at play.
Then one day some children gave Drift all that he wanted - a fluffy blue hat, warm mittens, a soft scarf and even a long orange carrot nose. Suddenly the other snowmen found him acceptable now that he had his new accessories and watched as he played all afternoon with his new friends. But that night a blizzard blew and Drift lost his smart new clothes and no matter how hard he looked, he couldn't find them. All he had left were his scarf and his long orange carrot nose. Then he heard a tiny voice - a little bunny was lost in the snow, frightened and shivery cold. Drift knows he can save the bunny by wrapping it in his soft scarf and giving it his long orange carrot nose but can he bear to part with them? Can he go back to being that plain snowman with skinny stick eyes, a small nose and coal eyes?
This is a charming story about what it means to be 'perfect' and whether it is about looking a particular way or having the right things or whether it runs deeper than that. What is the meaning of the old adage 'Clothes maketh the man' and is it true? Are we more visible and therefore perhaps more powerful because of our external appearance?
It also raises the concepts of selfishness and selflessness and whether even giving just a little can make any difference. Do we need to be applauded and rewarded for doing something kind or should it be enough to know that we have made a difference? Do we have to be the person giving the boldest and brightest present at birthday parties or is it the phone call saying thank you afterwards that is most remembered?
The soft palette echo the gentleness of both the story and its message but this is more than just a story to welcome winter.
Barbara Braxton