Watch out, Little Wombat! by Charles Fuge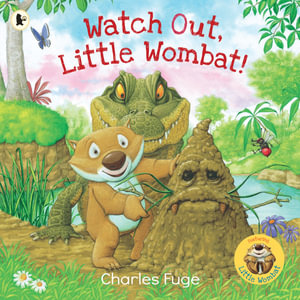 The cute little wombat of Swim, Little Wombat, swim! and Little Wombat's Easter surprise returns in another adventure that is sure to delight his fans. Little Wombat and his friends Rabbit and Koala are playing explorers when he suggests that they go hunting for a bunyip by the creek. His friends laugh and tell him that there is no such thing as a bunyip. When he cannot find one he decides to make his own to fool his friends. He piles up mud and adds pinecones for tusks and reeds for whiskers, but when his friends scare him with a great roar, he goes headfirst into his mud monster. Then to their shock a giant crocodile appears, but Wombat saves the day.
Young children will enjoy the humour of Watch out, Little Wombat and will love finding out about the mythic bunyip and producing a description or drawings for themselves. The text flows along smoothly and the colourful illustrations are delightful. The friends are all very distinctive with cute, happy faces until they are scared by the crocodile and then their fear is really expressed on their faces and body language. I loved Little Wombat's version of a bunyip and the happy conclusion of the three friends rushing back to Mrs Wombat will leave young children with a sense of security. Minute details of things like a butterfly, a ring tail possum and little lizards appear in the drawings and will be fun to follow.
The book introduces the Australian legend of the existence of bunyips who live in rivers and swamps and will be an enjoyable read aloud for young children.
Themes: Wombats, Bunyips, Friendship, Frights.
Pat Pledger