Extra Weird Creatures by Mark Powers. Illus. by Dapo Adeola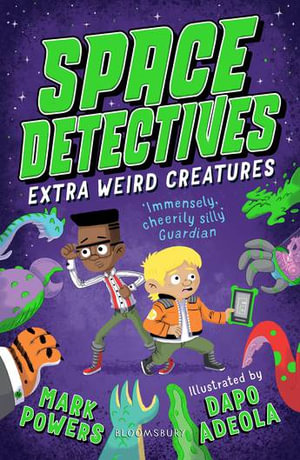 Space detectives: Extra Weird creatures is the second book in this series by Mark Powers and Dapo Adeola. It follows the business of two boys Ethan and Connor (The Space Detectives) and their rather slow day to day, until Mrs Plum and her son Felix knock on the office door. Felix had grown an extra head, and this was just the start of a long list of weird goings-on in Starville including a dog with 3 tails and multiple noses on a face. The pair go through the trials and tribulations of solving the case in space (including using a hover-scooter!) and as most would predict they are victorious at the end.
This book was very funny and full of lots of space themed transportation and interesting food names! I really enjoyed reading it, and so did my 7-year-old daughter. She found it amusing and was able to read most of it independently - only having to ask about a few made up words for clarification.
The illustrations were a highlight for us both, they really added to the story, and I think the amount of them was just right. I think this book would be great for a newly independent reader, so having the larger number of pictures bridges the gap from levelled readers and picture books.
The text is not too small, and includes sections that are bold and larger, adding meaning and helping the reader know when to increase volume or change their tone when reading aloud. There is also good line spacing which is beneficial for younger readers.
I give this book 4.5 out of 5 and think it would be great for newly independent and also younger boys who struggle to find books with topics that suit (space and humour - you can't go wrong!).
Themes: Space, Adventure, Food, Animals, Crime.
Lauren Fountain