Crash course by Wolf Girl 7. Anh Do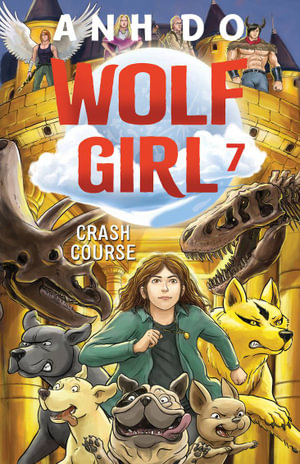 Middle-grade readers of Anh Do's Wolf Girl series will not be disappointed in the seventh book, Crash Course. In fact, they may be thrilled that the four main characters from The Mythix, also written by Ahn Do, make a welcome appearance in this action-packed story.
This adventure begins with Gwen and the pack driving the fast-moving train after releasing the trapped animals. They are heading to the town of Tunny where Gwen's parents may be held. It is while they are on the train that another pulls alongside, and Gwen sees her long-lost sister Kate who has been captured. They manage to chat, but Kate's train moves ahead, and Gwen decides she will rescue her sister. Unfortunately the check point is manned by soldiers and Gwen makes the bold decision to smash through the barrier. They manage to escape during the mayhem and find an abandoned warehouse where they rest for the night. The next morning Gwen notices the town appears to be a central meeting place for wealthy people to purchase exotic animals. Gwen decides she and the pack can move around freely but the wolf Sunrise draws the attention of the evil Evans from the Kingdom Guard. What follows is a chase, a dangerous battle, and a frantic search for Sunrise. It also leads to the pack entering the Northern Kingdom, being taken to the castle of The Collector, and once again being captured. Fortunately for Gwen The Mythix characters attack the guards and Gwen and the pack manage to free themselves - but at a cost. Tiny is badly injured and Gwen is forced to make a heart-breaking decision. Will she and Tiny be reunited with the rest of the pack? Will they be able to make it back to their country of Riverland?
This is an exciting and fast-moving read that will appeal to fans of the series. Illustrations by Lachlan Creagh continue to support and enhance the text. The bonus sealed section at the end continues the story of Gwen and Amber. Book Eight will be published soon.
Themes: Family, Children, Adventure, Survival, Trust, Animals, Danger.
Kathryn Beilby