Alex Neptune series: Dragon Thief by David Owen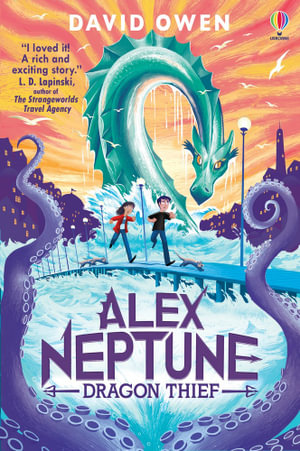 Pirate Hunter. ISBN 9781474999274
Monster Avenger. ISBN 9781474999298
Alex Neptune lives in Haven Bay, a town whose history and currency is intertwined with the sea, and particularly the legends of the Water-Dragon and the pirate, Captain Brineblood, But Alex hates the sea because he is convinced it wants him dead and besides, strange things have happened to it since a mysterious factory was built and it is now so polluted that visitors no longer come to the town, let alone support the family gift store Neptune's Bounty. And what's happening with the long-closed aquarium at the top of the hill which mysteriously glows green at night time?
This is new series for independent readers (best read in order for story continuity) that contains all the elements of relatable quirky characters, sea creatures that can talk and adventure that has been described as perfect "for fans of Percy Jackson and Dragon Realm". With his tech-genius best friend Zoey, legend-lover Anil, and a sharp-shooting octopus, Alex discovers that he actually has power over his nemesis, the ocean, and embarks on a series of escapades that feature the town's two legends, as he tries to save it from whatever is bringing it doom.
Full of action and embedded humour to lighten the mood, this is an entertaining read that has a powerful underlying message of how the ocean is being used by the unscrupulous for their own greed without regard for the consequences. From hating and fearing the ocean, Alex comes to appreciate and value it. An eye-opener...
Barbara Braxton