Review Blog
Feb 23 2010
Eon: Rise of the Dragoneye by Alison Goodman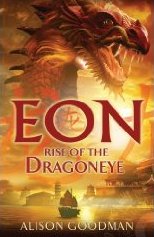 David Fickling Books, 2009. ISBN 9780385616447.
(Ages 13+) Fantasy. Recommended. Eon will be snapped up by fans of fantasy sagas as they delve into the life of Eona, as she trains to be a Dragoneye, the most powerful of lords within this ancient Chinese kingdom, able to control wind and water. Women are forbidden to train for this high station, but she has kept her sexuality hidden for most of her life, and to become the next Dragoneye is her avowed aim.
While training she is unwittingly involved in a life and death struggle for the throne of this kingdom, and is asked to be the representative of the current emperor, to fight against his enemies to the death. Her supporters, some of whom know her secret, go to great lengths to find information about her combatants, just as her combatants delve into her abilities and styles of fighting.
This is a page turner, a breathless account of survival against overwhelming odds, made all the more pertinent because she is also hiding her sex. Shortlisted for many awards, and winning the prestigious Aurelius Award in 2009, Eon is the first in what I hope is a trilogy.