Review Blog
Dec 15 2010
Bones of faerie by Janni Lee Simner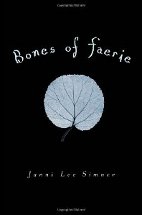 Random House, 2010.
(Age 13+) Recommended for people who enjoy stories of faerie and dystopian fiction. After a devastating war between Faerie and humanity, the land is desolate and people live huddled together in small hamlets. 15 year old Liza lives with her mother and her unbending father until her sister is born with silver eyes and faerie-pale hair. When her father casts the baby out on the mountain to die, Liza's mother leaves. Liza is shocked to find that she has faerie ability and can see in to the past and the future and she too flees the town, fearful for her own safety. Followed by Matthew, who also has magic powers, the pair set out to find Liza's mother.
Janni Lee Simner has created an unusual pairing of the faerie genre with dystopian fiction. The world that she creates is fascinating: trees and other plants can grab people with their tendrils and destroy houses. Even the dandelions have thorns and strange creatures abound. The war has destroyed most of the technology and the few people left in Liza's village live a hard life. With subtle allusions, the author is able to convey the appalling aftermath of war, but still leaves a kernel of hope in her stunning conclusion.
From the first chapter, where the little baby is left to die, the author grabbed my attention and kept it until the end of the story. Lyrical descriptions and strong characterisation are a feature of the book. Liza is a strong, compassionate girl who, with determination and strength, leads her little band across the dangerous wasteland to the arches leading to St Louis. Her budding romance with Matthew will satisfy readers who enjoy a good love story as will the tale of her mother's attachment to Caleb in a past life. Liza's father is portrayed as a mean, narrow-minded man, but the reader is still made aware that it is fear of the past war and its consequences that have made him unable to look to the future and tolerate a mixed race.
Readers who have enjoyed books by Holly Black, Laini Taylor and Melissa Marr will enjoy this.
Pat Pledger